World Pizza Day 2022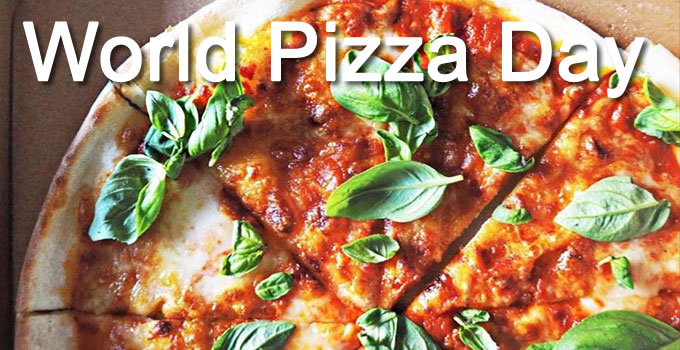 FEBRUARY 9TH: WORLD PIZZA DAY
National Pizza Day is a day that celebrates this oven baked flat bread food that is covered in sauce and cheese. It is a holiday where people can enjoy one of the most popular and iconic dishes in the world and kick back with a slice as they spend time with friends and family.
In pizza we crust! The delicious creation that we can always trust to cheer us up.
Pizza Day made its way into the stomachs and hearts of pizza lovers in Italy in the 10th century.
Fun fact: Italian Queen Margarita of Savoy visited Naples on a royal visit in 1889. Two chefs presented her with a pizza resembling the colours of the Italian flag red (tomato) white (mozzarella and green (basil). They coined it Pizza Margherita. That sure explains why the margarita is the queen of all pizzas.
Celebrate World Pizza Day
Go out to your local pizzeria and grab a slice throw an office pizza party or simply take home a frozen pizza.
NATIONAL PIZZA DAY. National Pizza Day is observed annually on February 9th.
History
While no one knows when National Pizza Day was created - what we do know is when pizza itself was created. The original pizza was a dish created by the Romans out of placenta bread that was covered in various layers of herbs sauce and cheese.
However while those early dishes were technically pizzas what people would recognize as the modern pizza wouldn't become invented until around the 18th century. This is when some of the citizens of Naples Italy began to create flat bread dishes covered in garlic basil cheese and eventually tomatoes.
During the nineteenth century Italian immigrants began to bring this dish home to the United States. However it really wouldn't become popular until the service men returning from World War II returned home after developing a taste for it in Italy. This is when the pizza market in the U.S exploded and made pizza one of the most popular foods in America.
Just how popular is pizza in the United States you ask? Well all you have to do is look at these numbers to see how popular pizza is in this country. Every year four billion pizzas are sold in the U.S. The majority of these are from restaurants pizza chains and pizzerias but about a billion of those are grocery bought frozen pizzas. For every man woman and child in the U.S. over 23 pounds of pizza is consumed. That is a lot of pizza.
---
❊ When & Where ❊
Date: Wednesday 9th February 2022
→
Disclaimer
: Event details can change at any time. Check with the advertiser before making plans, buying tickets or proceeding
...
---
❊ Web Links ❊
→
World Pizza Day 2022
Update Page