Theatre | Shows Perth
Perth is Australia's Broadway
Perth has a long rich theatrical tradition with some wonderful theatre's.
Featured performance playing now or coming soon.
Ticket Sales
-->>
Ticketek
|
Ticketmaster
|
Ticket & Box Office
Featured Shows

Harry Potter and the Cursed Child
The most popular show in Australia is Harry Potter and the Cursed Child currently playing at Melbourne's Princess Theatre. Playing until November 2019, Potter fans worldwide make ticket..

On Our Selection
STEELE Rudd's classic Dad and Dave short stories are coming to the Roxy Lane Theatre in the stage production On Our Selection. Presented by ARENAarts and directed by Peter Nettleton, th..
Where: Roxy Lane Theatre

The Real Housewives of Perth
WHETHER they're cute, catty and comical or beautiful, bitchy and backstabbing, The Real Housewives of Perth are coming to Limelight Theatre. Written by Molly Bell and directed by Helen ..
Where: Limelight Theatre

You Know We Belong Together
A Black Swan, Perth Festival and DADAA Co-Production YOU KNOW WE BELONG TOGETHER by Julia Hales with Finn O'Branagain and Clare Watson LOVE. WE FALL INTO IT, OUT OF IT AND FIND IT EVER..
Where: State Theatre Centre of Western Australia

---
Theatres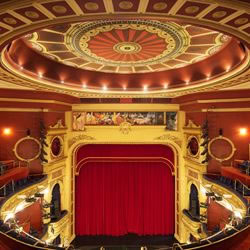 His Majesty's Theatre
One of Perth's most iconic venues, His Majesty's Theatre, or 'the Maj' as it is affectionately known, has hosted many great artists since it opened in 1904.
A beautiful theatre that has become one of Western Australia's most-loved heritage icons, seats over 2,500 people.
825 Hay Street Perth |
Map
|
What's On
Theatre Links
Shows
|
View By Date
|
View All
|
Theatre Restaurants
Theatre
|
Theatre (venue)
|
Theatre (company)