Aquarium of Western Australia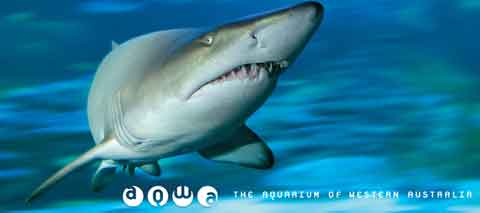 AQWA is CLOSED until further notice
Explore 12,000km of Western Australias coastline in just a few hundred metres at The Aquarium of Western Australia (AQWA).
From the icy waters of the southern ocean to the tropical wonderland of coral reefs in the Far North, AQWA takes you on an underwater journey to discover the incredible and unique marine life of Western Australia.
Since 1988, AQWA has presented the beauty and wonder of this coastal environment and is Western Australias number one marine attraction.
Reflecting our Western Australian theme, everything in AQWA can be found in the States oceans. In addition, everything within our displays is living - including the incredible complex marine environments and coral!
There are over 40 stunning exhibits including one of the largest living coral reef exhibits in the world and AQWAs shipwreck coast - Australias largest aquarium. It is also the 10th largest in the world! In total AQWA holds over 4 million litres of water and is home to over 4,000 fish.
AQWAs great southern coast - Venture into the icy waters of the Southern Ocean and come face to fin with intriguing creatures such as seadragons and pineapple fish.
AQWAs shipwreck coast - Surround yourself with sharks, stingrays and turtles in Australias largest walk through aquarium. Travel beneath 3 million litres of Indian Ocean water as you have a close encounter with 4 metre sharks, huge stingrays, turtles and hundreds of stunning fish.
AQWAs Perth Coast - Explore Perths amazing coastline of ancient reefs and sandy bays. Be mesmerised by moon jellyfish, discover an octopus and see how fish view the reef.
AQWAs far north coast - Explore one of the worlds most remote regions, home to dangerous marine animals and colourful tropical lagoons. Smile at a crocodile, see creatures up close and immerse yourself in beautiful tropical displays.
AQWAs DANGERzone - Face a deadly line up of marine creatures that can sting, bite or wrap their prey with suckered arms to immobilise or even kill! The DANGERzone is an eye-opening exhibit of Western Australias most dangerous marine life and is not to be missed.
AQWAs Marmion Marine Park - Interact with live animals at the touch pool, then visit stingray bay and relax by a coastal lagoon.
AQWAs coral reef - Overlook a living coral reef then travel from the shore to the bottom of the sea in AQWAs Underwater Gallery.
❊ Notice ❊
Venues and attractions have gone into lockdown as the state takes action to stop the spread of the deadly coronavirus (COVID-19).
→
Disclaimer
: Check before making plans
...
❊ Address & Contact ❊
⊜ 91 Southside Drive Hillarys Western Australia 6025
Map
✆ Telephone: (08) 9447 7500
❊ Web Links ❊
➼
Aquarium of Western Australia
➼
www.aqwa.com.au
❊ Be Social ❊
Update Page