Kings Park and Botanic Garden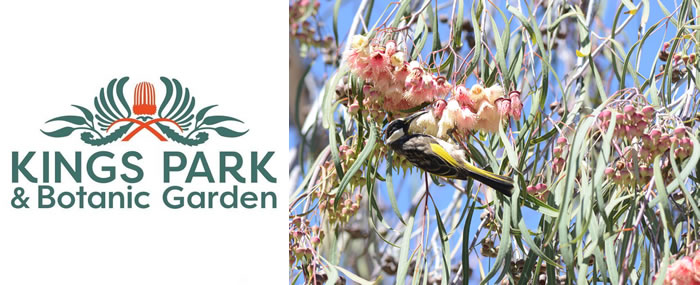 Kings Park and Botanic Garden is visited by nearly 6 million people each year.
With its remarkable expanses of unique bushland, tranquil parkland and botanic garden, the park is the most popular visitor destination in Western Australia.
The total area of the park is 400.6 hectares and is located adjacent to the Swan River, approximately 1.5 km from the Central Business District of Perth.
There are many things to do for the whole family, exciting events are held throughout the year and a range of services are offered to ensure you enjoy your visit.
Kings Park and Botanic Garden overlooks the Swan River and Darling Range and showcases an outstanding collection of Western Australia flora. It is a popular place for picnics, pleasant walks, cultural and ceremonial events.
Nearly two thirds of the Park is natural bushland containing 319 species of native plants and around 80 bird species. The balance of the Park is made up of superbly cultivated gardens and open recreational areas.
For Western Australians and for the many interstate and international visitors, Kings Park and Botanic Garden is a place of inspiration, relaxation, recreation and wonder. The Botanic Gardens and Parks Authority manages Kings Park and Botanic Garden in accordance with the Kings Park and Botanic Garden Management Plan, to ensure the conservation of native biological diversity and cultural heritage icons, while providing for the diverse range of visitor interests.
Kings Park and Botanic Garden is full of wonderful venues and facilities to provide for a range of activities: a quiet stroll, a family picnic, a learning adventure, a guided tour, a wedding ceremony, corporate event, State memorial service or Perth event.
Information on walks through Kings Park and Botanic Garden - including guided walks, the DNA Tower climb and the Lotterywest Federation Walkway - can be found via the Walks section.
Things to do is specifically designed to help the visitor find information on the great number of attractions in Kings Park within the major visitor zones, such as the Fraser Avenue precinct, Botanic Garden , Synergy Parkland, Saw Avenue Picnic Area and Lotterywest Family Area.
❊ What's On ❊
Events happening at Kings Park and Botanic Garden
❊ Address & Contact ❊
⊜ Fraser Avenue West Perth Western Australia 6005
Map
✆ Telephone: (+61 8) 9480 3600
❊ Web Links ❊
➼
Kings Park and Botanic Garden
➼
www.bgpa.wa.gov.au/kings-park
➼
www.facebook.com/KingsPark.WA
❊ Also See.. ❊
➼
Synergy Parkland
❊ Be Social ❊
Update This Page