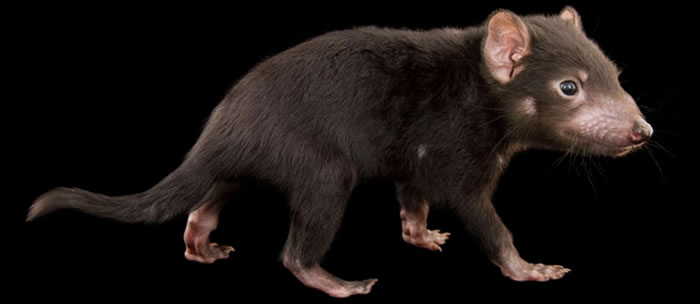 The famously feisty Tasmanian Devil is a mammal with a coat of coarse brown or black fur and a stocky profile that gives them the appearance of a baby bear.
Most have a white stripe or patch on their chest and light spots on their sides or rear end. They have long front legs and shorter rear legs, giving them a lumbering, piglike gait.
The Tasmanian devil is the world's largest carnivorous marsupial, reaching 30 inches in length and weighing up to 26 pounds, although its size will vary widely depending on where it lives and the availability of food.
Its oversize head houses sharp teeth and strong, muscular jaws that can deliver, pound for pound, one of the most powerful bites of any mammal.
Habitat
It was once native to mainland Australia and was only found in the wild on the island state of Tasmania.
Their Tasmanian range encompasses the entire island, although they are partial to coastal scrublands and forests.
Biologists speculate that their extinction on the mainland about 400 years ago may be linked to the introduction of Asian dogs-or dingoes.
Temperament
Tasmanian devils have a reputation for flying into a rage when threatened by a predator, fighting for a mate, or defending a meal. Early European settlers dubbed them "devils" after witnessing displays such as teeth-baring, lunging, and an array of spine-chilling guttural growls. These behaviors also inspired the Looney Tunes portrayal of Taz, the Tasmanian devil, as a snarling lunatic.
But this reputation might not be totally fair. Though the Tasmanian devil may seem aggressive, many of these behaviors are merely feeding rituals or fear-induced.
COMMON NAME: Tasmanian devil
SCIENTIFIC NAME: Sarcophilus harrisii
TYPE: Mammals
DIET: Carnivore
AVERAGE LIFE SPAN IN THE WILD: Up to 5 years
SIZE: 20 to 31 inches
WEIGHT: 9 to 26 pounds
Endangered Species
Now listed as endangered, the Tasmanian Devil is the largest living carnivorous marsupial in the world.
The Tasmanian Devil once lived on mainland Australia, but is now only found in the wild on our island state of Tasmania. An 80 per cent reduction in sightings of the Tasmanian Devil in the past 20 years tells us the population is in rapid decline.
Major threats
The survival of Tasmanian Devils is seriously threatened by Devil Facial Tumour Disease which develops rapidly and is fatal.
Once the highly infectious cancerous tumours appear around the mouth, face and neck, the Devils generally die within three to six months.
The other threat is cars (and their drivers) killing them on the roads.
The Save the Tasmanian Devil Program
The Save the Tasmanian Devil Program (STDP) is the official response to the threat of extinction of the Tasmanian devil due to Devil Facial Tumour Disease (DFTD).
The vision for the program is for an enduring and ecologically functional population of Tasmanian devils in the wild in Tasmania.
The STDP, an initiative of the Australian and Tasmanian governments, was established in 2003 following a national workshop of specialists on the decline of the Tasmanian devil due to DFTD. ​
www.facebook.com/SavetheTasmanianDevilProgram
Hotline Phone (8am - 4pm): 0497 DEVILS or 0497 338 457
Baby Boom
Seventeen baby Tasmanian devils have been born to five mothers and at four and six months old, they are already out and about, threatened mammals coordinator Monika Zabinskas said. "They're exploring and testing absolutely everything they find, learning to climb trees, discovering the boundaries of the world," she said.
She said newborn Tasmanian devils clung to their mothers, but these had started exploring their new home, giving their exhausted mums a break from their new bubs.
"It's definitely a trying time for their mums," Ms Zabinskas said. "We'll often see joeys hanging on their mum's back, or from her tail and ears. The mums might shake them off, or even roll over to get a bit of relief."
A BABY boom has brought a string of new arrivals to the
Healesville Sanctuary
animal family.
This article by OLIVIA JENKINS is from the October 16, 2020 issue of The Herald Sun Digital Edition.
To subscribe, visit
www.heraldsun.com.au
.
You can see Tasmanian Devils at most Australian Zoo's including
Healesville Sanctuary
and
Melbourne Zoo
.
---
❊ Web Links ❊
➼
Tasmanian Devil
❊ Be Social ❊
→
Disclaimer
: Check before making plans
...
Update Page