Raised by Wolves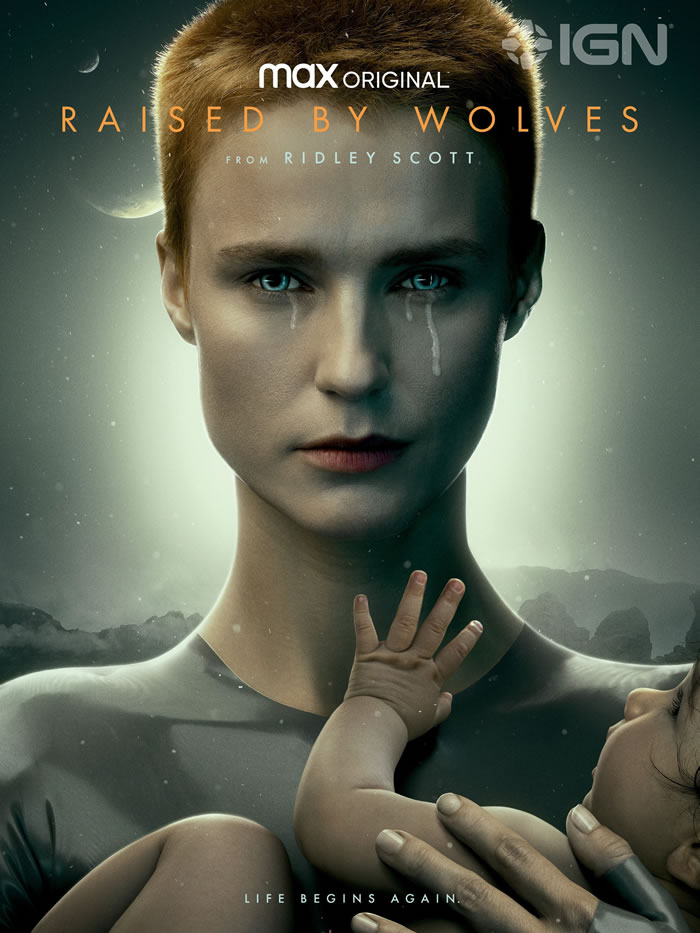 Raised by Wolves is a HBO science fiction television series showing on FOXTEL.
Watch on demand: FOXTEL - Thursdays 8.30pm AEST
After earth has been virtually destroyed two androids are tasked with raising children on a mysterious uninhabited planet. As the burgeoning colony of humans threatens to be torn apart by religious differences the androids learn that trying to control the beliefs of humans is a treacherous and difficult task.
From visionary Ridley Scott in his US directorial debut Raised by Wolves explores questions of humanity family and ideology against the backdrop of a strange and perilous new world.
Now is it's second season.
Stars: Travis Fimmel Amanda Collin Abubakar Salim
TRAILER: Raised by Wolves
TRAILER: Raised by Wolves
Season 1
Raised by Wolves - Ep1
After Earth is rendered uninhabitable Androids start a settlement and a new family with human embryos on the planet Kepler-22b.
Pentagram - Ep2
Mother receives unexpected guests with sinister plans. Are humans and androids the only inhabitants of Kepler-22b?
Virtual Faith - Ep3
After the Mithraic kids fall sick Campion believes Mother is poisoning them and plans an escape. As Mother and Father attempt to prove otherwise Marcus and Sue work to convince the other surviving Mithraic to mount a rescue of the children desperate to get their son Paul back.
Nature's Course - Ep4
Father tries to teach the children how to hunt some of Kepler-22b's mysterious creatures for food. Meanwhile the Mithraic make a stunning discovery that potentially fulfills a Mithraic prophecy and a debate about how to proceed ignites a conflict between Marcus and the Mithraic leader Ambrose.
Infected Memory - Ep5
Marcus moves forward with a plan to rescue the Mithraic children but first he has to find them. Back at the settlement Campion and Paul bond while on a hunting expedition with Father and Mother attempts to learn more about her origins.
Lost Paradise - Ep6
After rekindling her connection to her creator Mother finds herself distracted by intense feelings she didn't know she was capable of having unaware that Marcus Sue and the Mithraic are closing in on the settlement.
Faces - Ep7
Marcus' decisions stress his relationship to his family as he struggles to maintain his clout as leader of the Mithraic. Mother is able to see Marcus for who he truly is which threatens his power and puts Mother in a precarious situation she might not recover from. Meanwhile Campion is faced with a choice that could result in dire consequences.
Mass - Ep8
As Marcus continues to embrace his Mithraic devotion Sue worries he may no longer have her and Paul's best interests at heart. Mother experiences what she believes to be malfunctions and Hunter works on a secret project with Father.
Umbilical - Ep9
Sue is determined to keep the children safe and in doing so struggles with whether or not she can trust Mother. Meanwhile a new threat arises and an increasingly erratic Marcus causes the Mithraic to question their leader.
The Beginning - Ep10
Paul displays troubling behavior that leads to a revelation; Sue confides in Mother while Father battles human-like emotions; as Campion questions his place in his new family Mother and Father uncover a secret about the native creatures.
Season 2
Raised by Wolves - Ep1 (October 2020)
REVIEW: Raised by Wolves
Coming soon..
---
❊ When & Where ❊
Happens: Thursday
Times: 8.30pm
❊ Be Social ❊
Disclaimer
: Event details can change at any time. Check with the advertiser before making plans, buying tickets or proceeding
...
---
❊ Web Links ❊
→
Raised by Wolves
→
www.imdb.com
❊ Also See.. ❊
➼
FOXTEL
Update Page