Gunpowder Milkshake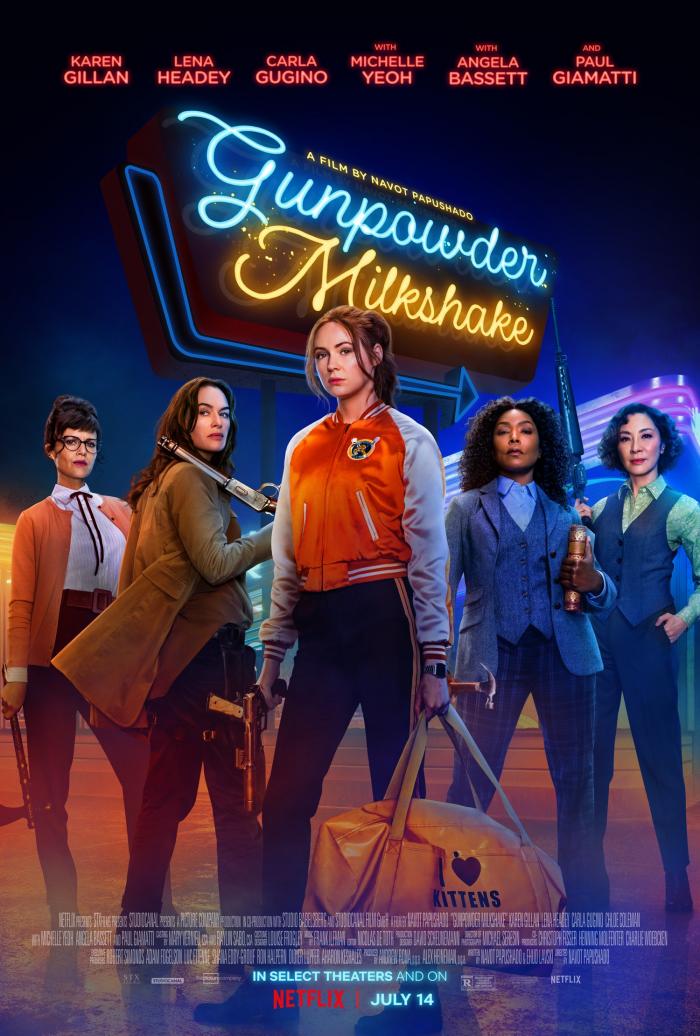 Three generations of women fight back against those who could take everything from them.
Sam (KAREN GILLAN) was only 12 years old when her mother Scarlet (LENA HEADEY), an elite assassin, was forced to abandon her.
Sam was raised by The Firm, the ruthless crime syndicate her mother worked for. Now, 15 years later, Sam has followed in her mother's footsteps and grown into a fierce hit-woman.
But when a high-risk job goes wrong, Sam must choose between serving The Firm and protecting the life of an innocent 8-year-old girl - Emily (CHLOE COLEMAN). With a target on her back, Sam has only one chance to survive: Reunite with her mother and her lethal associates, The Librarians (MICHELLE YEOH, ANGELA BASSETT and CARLA GUGINO).
These three generations of women must now learn to trust each other, stand up to The Firm and their army of henchmen, and raise hell against those who could take everything from them.
Official Trailer: Gunpowder Milkshake
Review: Gunpowder Milkshake

This female-focused action-thriller features stylish visuals and a stellar cast, but it also happily follows in other footsteps.
Cutesy name, likeable stars, stylised brutality, a familiar revenge scenario: blend them all together, and that's Gunpowder Milkshake.
There's one particular ingredient that's missing from this action-thriller's recipe, though, and its absence is surprising - because much about the film feels like it has jumped from the pages of a comic book. That's one of the movie's best traits, in fact. The world already has too many comics-to-cinema adaptations, but although Gunpowder Milkshake doesn't stem from a graphic novel, it actually looks the part. Its precise framing and camera placement, hyper-vibrant colours and love of neon could've easily been printed in inky hues on paper, then splattered across the screen like the blood and bullets the feature sprays again and again. Writer/director Navot Papushado (Big Bad Wolves) and cinematographer Michael Seresin (War for the Planet of the Apes) have made a visually appealing film, and a movie with evident aesthetic flair. All that gloss is paired with a generic assassin storyline, however, and a half-baked feminist thrust. It's Sin City meets John Wick but gender-flipped, except that the Kill Bill movies and Atomic Blonde have been there and done that.
Crafting a film that's entertaining enough, but largely in a mechanical way, Papushado and co-scribe Ehud Lavski (a feature first-timer) attempt to complicate their narrative. The basics are hardly complex, though. As skilled killer Sam (Karen Gillan, Avengers: Endgame) notes in the movie's opening narration, she works for a group of men called The Firm, cleaning up its messes with her deadly prowess. It's an inherited gig, in a way. Fifteen years earlier, she was a fresh-faced teen (Freya Allan, The Witcher) with a mum, Scarlet (Lena Headey, Game of Thrones), who did the same thing. Then her mother abandoned her after a diner shootout, leaving Sam to fend herself - and, to ultimately get her jobs from Nathan (Paul Giamatti, Billions), one of The Firm's flunkies. It's on just that kind of gig that Sam kills the son of a rival crime hotshot (Ralph Ineson, Chernobyl), and he wants revenge. Soon, her employers are also on her trail, after she takes another assignment in an attempt to sort out her first problem, then ends up trying to save eight-year-old Emily (Chloe Coleman, Big Little Lies) from violent kidnappers. The cast also spans the impressive trio of Angela Bassett (Black Panther), Michelle Yeoh (Last Christmas) and Carla Gugino (a Sin City alum), albeit sparingly, with all of Gunpowder Milkshake's female figures solely tasked with navigating an inescapably clear-cut scenario.
Gunpowder Milkshake is available to stream via Google Play, YouTube Movies, iTunes and Amazon Prime Video.
Review by Sarah Ward -
concreteplayground.com
---
❊ When & Where ❊
Date/s: Wednesday 14th July 2021 - Thursday 14th October 2021
→
Disclaimer
: Event details can change at any time. Check with the advertiser before making plans, buying tickets or proceeding
...
---
❊ Web Links ❊
→
Gunpowder Milkshake
Update Page