Chefgood | Ready-Made Meals Home Delivered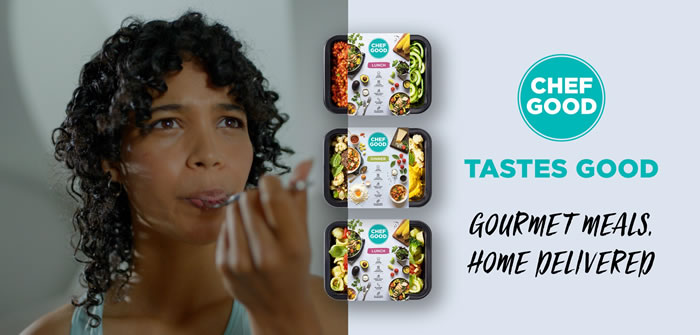 Our meals are made with locally sourced ingredients they are handcrafted by real-life chefs and made with whole foods which are GOOD for you.
We created meals that are nutritious delicious and high quality.
At Chefgood we don't do boring mass-produced and bland food. We are a restaurant style meal delivery service that is always offering you something new and exciting - and delivering it right to your doorstep!
So whether you're looking for an easy way to lose weight a convenient way to eat delicious meals or to simply try something new Chefgood is for you.
Select Your Meal Plan
Never cook again with healthy everyday plans or plan tailored to weight loss ( 350 calories per meal).
New menu every week with vegetarian and vegan meal plans available.
Select Plan
HANDCRAFTED
It's only natural that your Chefgood meals are small batch handcrafted using quality ingredients by renowned chefs
FRESH LOCAL PRODUCE
Our chefs hand select produce based on what's in season what's available locally and what's going to pack a nutritional punch while still tasting delicious
NEW MENU EVERY WEEK
At Chefgood we don't do boring mass-produced and bland food. That's why we have a fresh new menu every week
www.chefgood.com.au
Why Choose Chefgood Meal Plans?
Convenient and affordable
We take away the hassle of shopping and meal prep and provide the best meal delivery service delivering our fresh meals to your home or business. Chefgood meals are affordable and offer excellent value starting at just $9.95 per meal.
Variety of flavours and ingredients
Our menus change weekly so you have variety and different meals to look forward to. We offer meal plans to suit a variety of different dietary requirements including weight loss vegetarian vegan no added gluten and no added dairy - so we have everyone covered!
Free of nasties
We offer a range of healthy meal plans made from fresh ingredients with no preservatives unhealthy fats or added sugars. Chefgood meals are freshly made delicious meals full of flavour and nutrition.
Australian-made
Chefgood is an Australian owned and operated business improving the health and wellbeing of Aussies in Sydney Melbourne Adelaide Canberra and Brisbane (regional areas as well). Enter your postcode in our Delivery Check and find out if we deliver to your area!
Here's How it Works
1. Choose your meal plan
Decide whether you want a meal plan that focuses on everyday wellness or weight loss. From there you can choose from a range of breakfasts lunches dinners and snacks. You can also choose meal options that are plant based no added gluten or no added dairy!
2. Place your order
Order online before Wednesday 11.30pm to receive your meals from Saturday to Tuesday. Your first order will start your regular weekly delivery which you can pause or cancel at any time.
3. Enjoy!
Meals will be delivered to your door on a regular delivery date set by your postcode or delivery area. Simply sit back and enjoy your delicious fresh and healthy meals.
Select Plan
Chefgood Meal Plan Options
Everyday Wellness
Meal plans with larger portion sizes which provide convenience nutrition fabulous flavour and high-quality ingredients.
Slim & Trim
Weight loss meal plans with a sustained weight loss focus through low carb 350 calorie meals. Slim & Trim meal plans are everyone's favourite meal plans for weight loss! These low carb meals made with seasonal ingredients are so delightfully tasty you won't know you're on a diet!
Vegetarian and Vegan
Both Everyday Wellness and Slim & Trim meal plans have sensational plant-based meal options which are crafted with fresh veggies and seasonal ingredients. You don't need to be vegetarian or vegan to love these tasty dishes! Our delicious vego ready-made meals contain lots of fabulous high protein meat-free alternatives such as lentils chickpeas quinoa and more!
Select Plan
Making Healthy Living Simple!
At Chefgood we offer high quality ready-made meals for everyday convenience which are delivered straight to your door and require no meal prep! Our healthy meal plans have so many amazing benefits:

Designed by nutritionists and dietitians and prepared by chefs Chefgood ready-made meals are nutritionally-balanced and delicious!

Brimming with high quality seasonal ingredients such as fresh fruit wholesome veg healthy wholegrains and lean meats.

Contain no added sugars preservatives unhealthy fats or carbs

Loads of variety and different meals each week so your meals are never boring

Our convenient and reliable food delivery service is available in
VIC NSW QLD SA and ACT
!
www.chefgood.com.au
---
❊ Web Links ❊
➼
Chefgood | Ready-Made Meals Home Delivered
➼
www.chefgood.com.au
→
Disclaimer
: Check before making plans
...
Update Page