Yesterday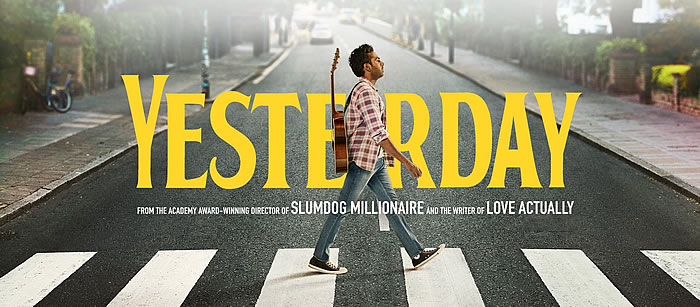 ** Must see movie of the year **
Yesterday everyone knew The Beatles. Today only Jack remembers their songs.
Yesterday is a musical fantasy comedy film directed by Danny Boyle and written by Richard Curtis.
Yesterday
What if the Beatles didn't exist? We might have "Hey Dude"instead of "Hey Jude"
A young songwriter "introduces"the world to the Beatles in Danny Boyle's upcoming film Yesterday.
Jack Malik is a struggling singer-songwriter in a tiny English seaside town whose dreams of fame are rapidly fading despite the fierce devotion and support of his childhood best friend Ellie.
Then after a freak bus accident during a mysterious global blackout Jack wakes up to discover that The Beatles have never existed... and he finds himself with a very complicated problem indeed.
MOVIE TRAILER
When & Where
Date/s: Wednesday 26th June 2019 - Wednesday 31st July 2019
Web Links
→
Yesterday
→
www.yesterdaymovie.com
❊ Be Social ❊
Publisher Statement
: Details can change at any time. Readers are advised to check with the advertiser (links above) before proceeding.
➼
Advertising Disclaimer
Update This Page