Latest Movies | What's Showing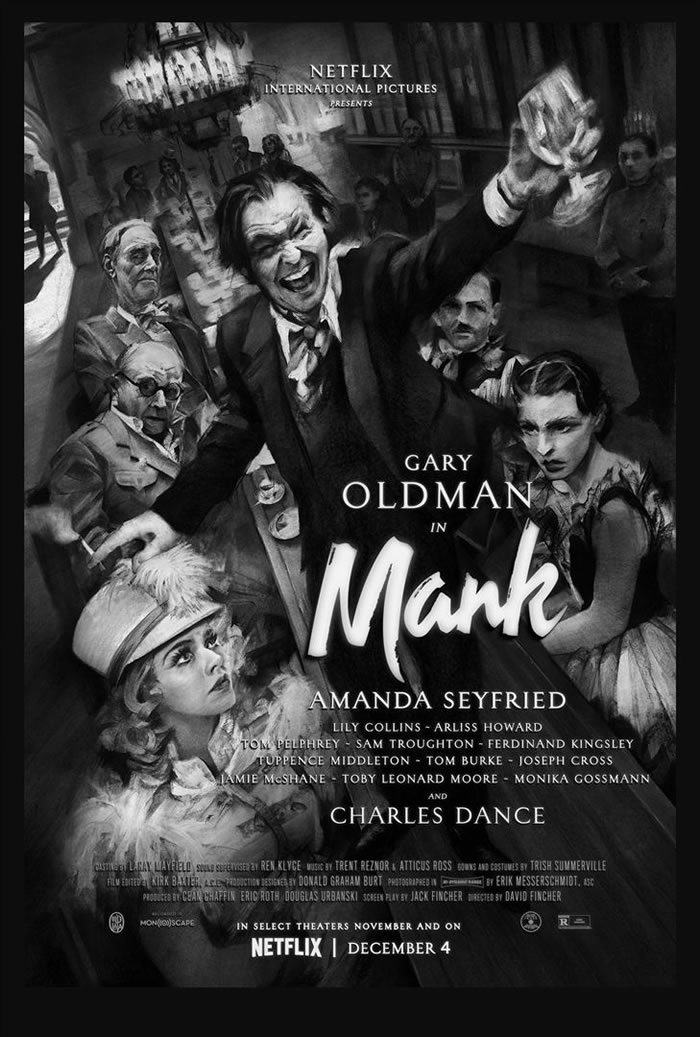 Check out latest films, Hollywood blockbusters and independent films.
Reviews by EG TheAge, Leigh Paatsch, Herald Sun and imdb.com.
MOVIE OF THE WEEK
MANK (M)

THE TRUTH BEHIND A KANE MUTINY, US, 131 MINS
This exquisite history lesson on what many hail as the greatest movie ever made has been fast-tracked to the front of Oscars calculations. And rightly so.
It is impossible to think of a recent movie featuring better directing, writing and acting. Acclaimed filmmaker David Fincher (The Social Network, Gone Girl) takes us back to the genesis of the movie masterpiece Citizen Kane.
Many people assume this landmark 1941 drama was the sole work of its young whiz-kid creator (and star) Orson Welles. What Mank makes clear is that it was Welles' co-writer Herman Mankiewicz (played by Gary Oldman) who was really responsible for Citizen Kane's game-changing tale of a mysterious media baron and the secret he took to his grave. Oldman's virtuoso performance as Mank - a drinker, a thinker and one of the most amusing raconteurs that ever lived - is something to behold.
Not far behind him is an inspired Amanda Seyfried as the fading Hollywood starlet Marion Davies. Filmed beguilingly in black and white, just like Citizen Kane.
THE COMEBACK TRAIL
(M)

LIGHTS! CAMERA! TRACTION!, US, 104 MIN
This unorthodox combination of madcap farce, showbiz satire and black comedy is definitely not going to accommodate all tastes. However, one thing that all viewers will agree on is that Robert De Niro has not been this amusing in a humorous setting for many years. He plays Max Barber, a 1970s movie producer with a dubious reputation to uphold - his most recent release was a box-office bomb about nuns with machine guns - and a stack of money owed to notorious gangster Reggie Fontaine (Morgan Freeman). Max's only way out of debt is a dicey insurance scam, in which he requires the ageing star of his next production to die during filming to trigger a multimillion-dollar payout. Just one problem: Max's leading man, alcoholic cowboy Duke Montana (Tommy Lee Jones), is as indestructible as a Marvel superhero. A bit corny at times, but some good work throughout.
GENERAL RELEASE
FATMAN (MA15+)

YO, HO, NO!, US, 99 MIN A 12-year-old kid unhappy with the presents Santa delivered to his home last Christmas dispatches a hitman to kill the burly guy in the red suit. Mel Gibson was the biggest box-office draw in the world. Now here he is, fronting a cheap, nasty and largely no-good action movie, in which he plays a bad Santa who makes Billy Bob Thornton's Bad Santa look like, well, a good Santa.
FREAKY (MA15+)

A WHO'S WHO OF WHO ARE YOU?, US, 102 MIN
A highly enjoyable and consistently clever horror flick delivers a winning blend of a body-swapping Freaky Friday and a body-chopping Friday the 13th. Not a dull minute is clocked as we work through the strange case of a serial killer known as the Blissfield Butcher (Vince Vaughn). Fresh from dispatching a quartet of his high schoolers to an early grave, this lanky streak of pure evil accidentally conjures a spell that sees him switching bodies with a meek, mild young student named Millie (Kathryn Newton). Once the changeover is in play, both actors have a field day playing one another. Newton's transformation from wallflower to psychopath is both chillingly convincing and archly amusing. Same goes for Vaughn's highly skilled work heading in the opposite direction.
HONEST THIEF (M)

A MAN OF STEAL TAKES NOTHING FOR GRANTED, US, 99 MIN
Another royally ropey revenge thriller from Liam Neeson, the king of looking overstressed, overtired and over 60. Old Liam plays Tom Dolan, a celebrated bank robber striking a deal with the feds to go legit. Little does he know certain agents need a stooge to frame for murder, and a career con like Tom fits the bill perfectly. What follows is punchy, crunchy, midstrength pulp which doesn't take itself all that seriously, and is all the better for it.
ON THE ROCKS (M)

FATHER KNOWS BEST, SUSPECTS WORST, US, 97 MIN
A wonderful Bill Murray plays Felix, a New York art trader who drifts in and out of the life of his cherished daughter Laura (Rashida Jones) as he pleases. A bit of a rogue, an obvious ladies' man and a clandestine philosopher, Felix is about to add "private detective" to his resume when he gets an inkling Laura's workaholic husband might be cheating on her. Murray is a master of the one-note , multi-layered performance, but Jones
- who excels in the movie's crucial exchanges between Laura and Felix - keeps pushing him not to rest on those well-earned laurels.
RADIOACTIVE (M)

EXPERIMENTAL AS ANYTHING, UK, 109 MIN
A by-the-book biopic of pioneering scientist Marie Curie. Not only was Madame Curie (played convincingly at varying ages by Rosamund Pike) the first woman to win the coveted Nobel Prize. She was also the first person to bag two of 'em. Often in collaboration with her equally renowned husband Pierre (Sam Riley), Marie's discovery of radium and polonium (and ongoing study of their properties) carried dramatic implications for the way we live today.
RAMS (PG)

NOTHING MORE TO SAY, SO MUCH MORE TO DO, AUSTRALIA, 115 MIN This fine Australian movie unfolds inside a closeknit sheep farming community in WA where two brothers live on adjacent properties. One goes by the name of Colin (Sam Neill). The other is Les (Michael Caton). The sibling's houses stand less than 20m apart. They have not spoken in more than 20 years. Intriguingly, Rams never really fully clues us in about what drove the brothers apart. Instead, very subtly and skilfully, the movie steers both men on differing paths through the same personal crisis: a bovine disease outbreak which threatens to obliterate everything this pair have lived for. This is a difficult movie to classify. At times, it is as charming a comedy as they come. At others, it is a strikingly well-observed drama. The minimalist performances of Neill and Caton convey much more than most viewers will expect, particularly as their characters are the embodiment of "men of few words" .
PINOCCHIO (M)

A FRIGHTENING PACKAGE, NO STRINGS ATTACHED, ITALY, 125 MIN
By sticking closely to 19th century Italian author Carlo Collodi's original Pinocchio book - very dark, menacing and most un-Disney - this fine movie can often become an unsettling experience. Roberto Benigni plays Geppetto, the elderly puppeteer whose latest creation suddenly springs to life. Just as suddenly, Pinocchio (played by the extraordinary child actor Federico Ielapi, just 10 years of age) is removed from his new home and finds himself lost in some very dangerous places. The combination of prosthetics and computer effects applied to the Pinocchio character must be seen to be truly believed. You are convinced the kid is made of wood (he even creaks when he moves) yet infused with the feelings of an actual human.
TENET (M)

BACK TO THE FUTURE AND BACK AGAIN, US, 150 MINS
This globetrotting, brain-blotting spy thriller unfolds on a scale (and folds in on itself) in ways that make previous Christopher Nolan-created noodle-scratchers like Inception and Interstellar look like straightforward popcorn flicks. Visually, Tenet is a game-changing triumph, resetting the outer limits of how lights, cameras and action can be configured to conjure new feats of movie magic. See it on a screen that needs its own postcode and the sheer splendour of it all will recharge the most ailing of senses. However, when it comes to following Tenet's plot, the task is all but impossible. The story is propelled by the concept of "time inversion" , where both the past and the future are capable of moving in multiple directions. Therefore it is left to an unnamed agent (John David Washington of Blackkklansman) to stop a wily Russian oligarch (Kenneth Branagh) from summoning a tsunami of evil from the future that could exterminate the present forever. A movie that is forever blowing you away, and then doing you over.Co-stars Robert Pattinson, Elizabeth Debicki, Michael Caine.
UNHINGED (MA15+)

CROWE-ING , GOING, GONE, US, 88 MIN
Watching a stabby, crabby and flabby Russell Crowe misplace his marbles may not be the most therapeutic choice to mark your return to cinemas after a lengthy absence. Nevertheless, this trashy anxiety-fest completely delivers upon what little it promises. Rusty's unnamed character comes down with a chronic case of road rage, and then comes down hard on anyone connected to the poor woman (Caren Pistorius) who happened to honk her horn at him one morning. The intensely off-kilter way in which Crowe leans into the role means boredom is not an option.
Moves & Films
Theatre or Theater?
Theatre and theater are both nouns that mean a building, room, or outdoor structure for the presentation of plays, films, or other dramatic performances. Theatre is by far the preferred spelling in British English.
Reviews by LEIGH PAATSCH from the November 21, 2020 issue of The Herald Sun Digital Edition.
---
❊ When & Where ❊
Happens: Monday, Tuesday, Wednesday, Thursday, Friday, Saturday, Sunday
❊ Be Social ❊
Disclaimer
: Event details can change at any time. Check with the advertiser before making plans, buying tickets or proceeding
...
---
❊ Web Links ❊
→
Latest Movies | What's Showing
Update Page