What's Showing | Latest Films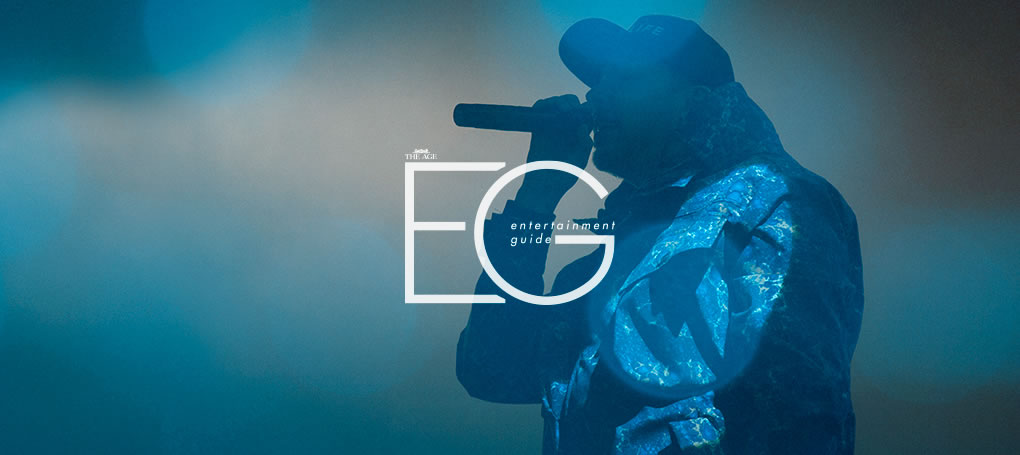 The latest films reviewed by EG, the entertainment guide to plan your weekend and beyond.
Check out the latest films, Hollywood blockbusters and locally made independent films released in Australian cinemas this and every week.
Includes Oscar-nominated films, award-winning films,
NEW THIS WEEK
ALITA: BATTLE ANGEL
**
(122 minutes) M
Kitted out with a mechanical body, Alita physically resembles a young adolescent girl. But she could equally be described as a newborn child. Directed by Robert Rodriguez, this is a project set in a bustling dystopia that's been nursed for the best part of two decades by James Cameron. It's action-oriented but hardly gruesome. JW
ARCTIC
***
(97 minutes) M
Mads Mikkelsen struggles manfully through spectacular Icelandic locations after a plane crash. We don't learn anything about who his character is or where he came from. He keeps to a routine, determined by a series of alarms on his watch and then finds himself responsible for a badly injured young woman. Mikkelsen has to carry the movie on his shoulders, but that's probably why he did it. PB
AT ETERNITY'S GATE
***
(111 minutes) PG
Willem Dafoe plays A loosely factual account of Vincent van Gogh's agonised yet productive final years, in the South of France. Director Julian Schnabel's interest centres less on the man than on the artist: what would it be like to see the world through Van Gogh's eyes? JW
HAPPY DEATH DAY 2 YOU
**
(100 minutes) M
Theresa Gelbman (Jessica Rothe) is caught in a "time loop' ' compelling her to be murdered on her birthday. In short, she is trapped in a "slasher' ' variation on Groundhog Day. Now she's back for another few rounds, although this time it's more comedy of a chaotic kind. SH
IF BEALE STREET COULD TALK
****
(119 minutes) MA15+
Barry Jenkins take James Baldwin's 1974 novel, set in New York City, and finds a tone that pays respect to Baldwin's tough but elegant prose, without losing sight of the filmmakers' creed: make it your own, not just highlights of the book. Beale Street is Struggle Street, but also the centre of black culture, where music and fun and love may flourish. Jenkins makes us see, through two beautiful young people, it's a haven, not just a slum. PB
---
STILL SHOWING
CAPHARNAUM
****
(123 minutes) M
Capharnaum is a Dickensian tale updated to the slums of modern-day Beirut with 12-year-old Zain as its Oliver Twist. He's not an orphan but there are times he wishes he were. He's precociously streetwise and impressively foul-mouthed with a certain entrepreneurial flair. SH
THE FAVOURITE
****
(120 minutes) MA15+
In this story, it's the women who matter. It centres on the rivalry between the Duchess of Marlborough (Rachel Weisz), the Queen's childhood friend and chief lieutenant - a woman of imperious wit and ruthless candour - and the Duchess' less fortunate cousin, Abigail Hill (Emma Stone), who begins her career at the palace as a chambermaid. SH
GLASS
****
(129 minutes) M
Glass is something like M. Night Shyamalan's bid to psychoanalyse the entire superhero genre. The film takes up the story of Bruce Willis' character David Dunn and his friend and mirror image Elijah Price (Samuel L. Jackson). Dunn and Price now share the spotlight with Kevin Wendell Crumb (James McAvoy) - the central figure from Shyamalan's 2016 film Split. JW
THE HATE U GIVE
****
(133 minutes) M
This adaptation of Angie Thomas' novel about America's racial divide is a delicate balancing act for 16-year-old Starr Carter (Amandla Stenberg) that's brought to an abrupt and shocking end the night Khalil (Algee Smith), a friend from childhood, is shot dead by a policeman. SH
LET THE SUNSHINE IN
**
(95 minutes) MA15+
Clair Denis is best known for Beau Travail, her visually beautiful account of the lives of a group of French Legionnaires. Here, Juliette Binoche is looking for love while courting disappointment. It's a story about people talking about their lives more than inhabiting them. SH
LORO
****
(150 minutes) MA15+
Loro means "them' ' in Italian, and to some extent, this is a film about Us and Them - the ones who control everything, the ones who have all the money and girls and drugs and houses by the sea, those who have power. PB
MARIA BY CALLAS
****
(113 minutes) PG
Having been forced into singing, Maria Callas declares she would have given up her career with pleasure if she had had the chance to have a family. Directed by Tom Volf, this rich tapestry is artfully stitched together from family photographs, home movies, letters and Callas' unpublished memoirs. SH
THE MULE
***
(116 minutes) M
Much of Clint Eastwood's career has been built on his tough-guy act, his squint of disgust suggesting depths of rage and sadism. Written by Nick Schenk, who collaborated with Eastwood on his 2008 hit Gran Torino, The Mule is loosely inspired by the true story of a Michigan horticulturist and florist who in his 80s became a courier for a Mexican cartel. JW
ON THE BASIS OF SEX
****
(120 minutes) M
Felicity Jones, who strides through this biopic of Ruth Bader Ginsburg, studies at Harvard and years later realises that by beating one case of sex discrimination, even when the plaintiff is a man, other discriminatory statutes in American law might start to tumble. PB
Source:
EG: TheAge
PAUL BYRNES (PB) SANDRA HALL (SH) & JAKE WILSON (JW)
This EG article is from the February 15, 2019 issue of The Age Digital Edition.
To subscribe visit
digitaleditions.com.au
EG
For more than 25 years EG in Friday's The Age has been synonymous with entertainment in Melbourne.
Aimed at a broad audience; from fans of local and international music to movie lovers looking for the biggest Hollywood blockbuster or locally made independent film.
When & Where
Date/s: Tuesday 1st January 2019 - Wednesday 1st January 2020
Web Links
→
What's Showing | Latest Films
❊ Be Social ❊
Publisher Statement
: Details can change at any time. Readers are advised to check with the advertiser (links above) before proceeding.
➼
Advertising Disclaimer
Update This Page