Latest Movies | What's Showing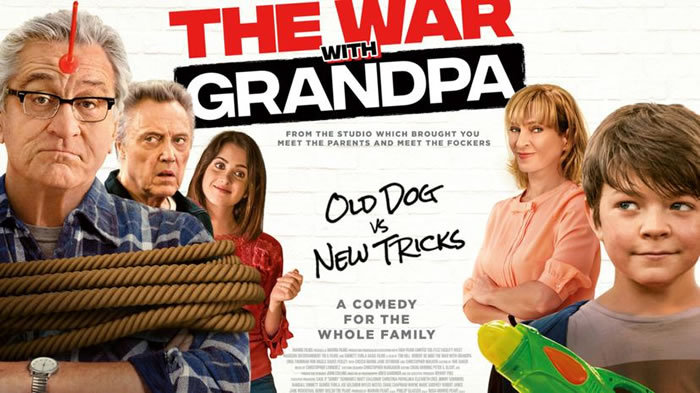 Check out latest films, Hollywood blockbusters and independent films.
There is nothing quite like watching a good movie on a big screen with big sound.
Film reviews by EG TheAge, Leigh Paatsch, Herald Sun and imdb.com.
Enjoy the last movies...
MOVIE OF THE WEEK
The War with Grandpa

Based on the popular children's book by Robert Kimmel Smith, The War with Grandpa stars Robert DeNiro, Uma Thurman, Rob Riggle, Oakes Fegley, Laura Morano, Jane Semour, and Christopher Walken.
Peter (Fegley) and his Grandpa Jack (DeNiro) used to be very close, but when Grandpa moves in with the family, Peter is forced to give up his most prized possession, his bedroom. Peter will stop at nothing to get his room back, scheming with friends to devise a series of pranks to drive him out. But, Grandpa doesn't give up easily and before long, it's an all-out war!
GENERAL RELEASE
Wonder Woman 1984

The movie kicks off with an exciting prologue set a few thousand years ago. We are then fast-tracked to Los Angeles in 1984, where Wonder Woman's glamourzon adult alter ego Diana Prince (Gal Gadot) is working as head anthropologist of the city's leading museum.
The Croods: A New Age

This new movie is bright and colourful in the visual department. This time around, that caveman clan the Croods is pitched against some better-resourced rivals named the Bettermans. From their posher position up the evolutionary scale, the Bettermans keep looking down upon the Croods until both must join forces to stave off the looming threat of attack by a weird super-species known as Punch-Monkeys .
There are fleeting sequences charged with undeniable fun children will truly love, and flat spots where parents will wish the blasted thing would hurry up and end already.
The Witches

With a deliciously wicked performance from Angelica Huston and imaginative puppetry by Jim Henson's creature shop, Nicolas Roeg's dark and witty movie captures the spirit of Roald Dahl's writing like few other adaptations.
The Dry

A quintessential Australian story beautifully told, The Dry by Jane Harper is a new film starring Eric Bana.
Federal Agent Aaron Falk (Eric Bana) returns to his home town after an absence of over twenty years to attend the funeral of his childhood friend, Luke, who allegedly killed his wife and child before taking his own life - a victim of the madness that has ravaged this community after more than a decade of drought.
MANK (M)

This exquisite history lesson on what many hail as the greatest movie ever made has been fast-tracked to the front of Oscars calculations. And rightly so.
It is impossible to think of a recent movie featuring better directing, writing and acting. Acclaimed filmmaker David Fincher (The Social Network, Gone Girl) takes us back to the genesis of the movie masterpiece Citizen Kane.
THE COMEBACK TRAIL
(M)

This unorthodox combination of madcap farce, showbiz satire and black comedy is definitely not going to accommodate all tastes.
Moves & Films
Theatre or Theater?
Theatre and theater are both nouns that mean a building, room, or outdoor structure for the presentation of plays, films, or other dramatic performances. Theatre is by far the preferred spelling in British English.
---
❊ When & Where ❊
Happens: Monday, Tuesday, Wednesday, Thursday, Friday, Saturday, Sunday
❊ Be Social ❊
Disclaimer
: Event details can change at any time. Check with the advertiser before making plans, buying tickets or proceeding
...
---
❊ Web Links ❊
→
Latest Movies | What's Showing
Update Page