Voyagers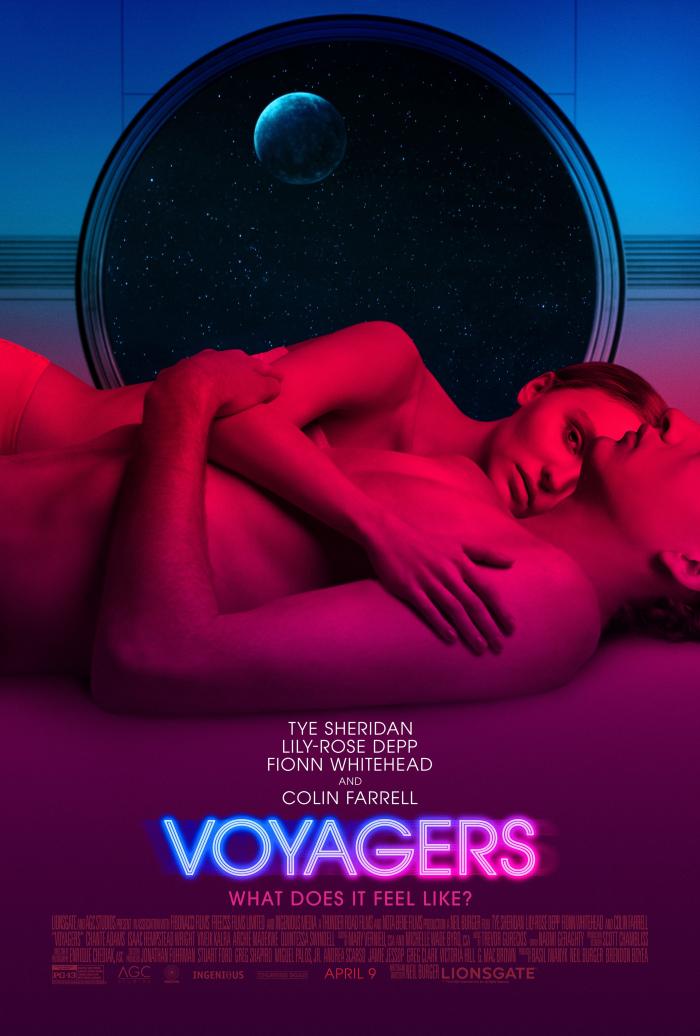 A crew of astronauts on a multi-generational mission descend into paranoia and madness not knowing what is real or not.
With the future of the human race at stake a group of young men and women embark on an expedition to colonize a distant planet.
When they uncover disturbing secrets about the mission they defy their training and begin to explore their most primitive natures.
As life on the ship descends into chaos they soon become consumed by fear lust and an insatiable hunger for power.
PG-13 | 1h 48min | Adventure Sci-Fi Thriller | 9 April 2021 (USA)
Director: Neil Burger
Writer: Neil Burger
Stars: Colin Farrell Tye Sheridan Lily-Rose Depp
Official Trailer: Voyagers
Reviews: Voyagers

It seems as if anyone looking to summarise Voyagers is legally obliged to declare "it's Lord of the Flies in space!" Had this been the simple truth then Voyagers would be enjoying good-to-great wordof-mouth as a fun fraught sci-fi experience. Instead the prevailing buzz is that it is a flat-out average movie in every regard: neither good nor bad. Merely forgettable.
You won't be hearing anything different here. Voyagers is indeed selling us all a one-way ticket to Dullsville. As so often is the case the main premise has major potential of which only a minor percentage will be adequately exploited. It is the later part of this century and with Earth on the brink of climate catastrophe a spaceship has been sent on an urgent mission to colonise a new planet. There's just one problem. It takes 86 years to get there which means three generations of astronauts will be born and bred aboard the craft to guarantee an effective arrival. Actually there are two problems.
The young crew raised to complete the first leg of the journey have just discovered they are being drugged daily to suppress the usual urges that are part and parcel of being a teenager. Needless to say they are not happy. A rebellious pushback and then a grinding clash for in-flight supremacy follows. If you were streaming this at home I guarantee that while you would not switch Voyagers off you would also be second-screening something else on your phone within minutes. Stars Tye Sheridan Lily-Rose Depp Fionn Whitehead.
LEIGH PAATSCH review from the April 15 2021 issue of The Herald Sun Digital Edition. To subscribe visit https://www.heraldsun.com.au/.
---
❊ When & Where ❊
Date/s: Friday 9th April 2021 - Sunday 9th May 2021
❊ Be Social ❊
Disclaimer
: Event details can change at any time. Check with the advertiser before making plans, buying tickets or proceeding
...
---
❊ Web Links ❊
→
Voyagers
Update Page