Vitable: Personalised Vitamins & Supplements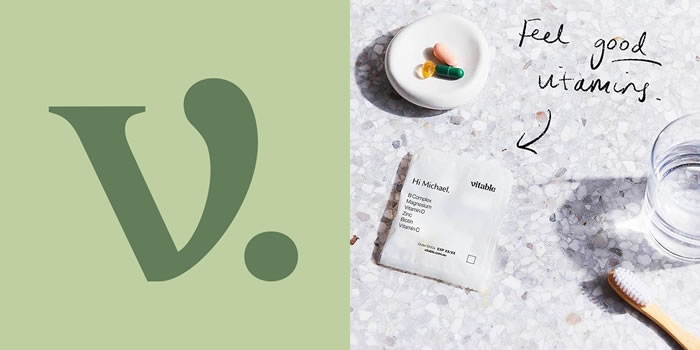 Get your own personalised packs of vitamins and health supplements based on your diet lifestyle and health goals.
To support you in your unique health journey we design products specifically for you based on your unique diet lifestyle and health goals.
We work hard to source the best ingredients and we only make products we believe are effective. That's our promise to you.
Make feeling good an everyday thing.. Take our simple free quiz to get a daily vitamin pack tailored to your goals lifestyle and diet.
Start (free) Quiz
Our difference
Vitamins
Vitamins are chemical compounds that are needed in small amounts for the human body to work correctly. We design our vitamins to be as close as possible to the vitamins naturally present in food so your body can absorb them properly.
Minerals
Minerals are chemical elements required as an essential nutrient by our body to perform essential functions. Some minerals that our body needs are Magnesium or Calcium.
Herbs
Herbal supplements are made from plants and used for their therapeutic properties. Plants have been the basis for treatments through much of human history and such traditional medicine is still widely practiced today.
Probiotics
Probiotics are live bacteria and yeasts that support your digestive system health. We select strains that have been thoroughly studied for their benefits.
Specialty
Our specialty products are made from carefully selected ingredients and crafted to best support your health goals.
Collagen
Collagen is the most abundant protein in the body and is what gives our skin structure. We use hydrolised collagen peptides which easy for our bodies to absorb.
Limited Edition Kits
Vitable X Peggy Sue X The Base Collective exclusive collaboration. Kits are available as a one-off purchase no subscription required.
View Products
Our difference
We keep it personal
We recommend the products that will be most effective in supporting you taking into account your unique health goals. Plus everything from your daily sachets to your information booklet are personalised and made to order just for you.
We tell it true
Transparency is behind everything Vitable does from our formulas and ingredients to the scientific research. We're also direct-to-consumer which means no middlemen mark-ups. We take away the unnecessary costs and pass those savings onto you.
We make it simple
We believe that good health shouldn't be complicated or inaccessible. We do the heavy lifting for you - from our simple online quiz to your daily vitamin packs delivered straight to your door - so you can go about your day feeling good.
www.vitable.com.au
Our quality promise
We are proudly Australian
All of our products are manufactured and packed here in Australia and comply with the strict Therapeutic Good Administration and GMP standards for maximum safety.
They are manufactured in a certified Australian facility which meets the highest quality standards. Each product is listed with the TGA which means they hold a unique identifier called the Aust-L number that you can find on each label.
Larah and Ilyas founded Vitable after seeing the need for a personalised yet accessible approach to nutrition coupled with honest advice. They're obsessed with health and wellbeing and bringing you new and exciting products.
We source the best ingredients
We develop our product formulations with health experts to ensure they are well-absorbed by your body effective and safe. Our products only contain ingredients from a pre-approved list that the TGA has already assessed for safety and quality. This is true for all the ingredients we use and we work closely with our suppliers and manufacturers to source quality ingredients - because great products start with the best ingredients.
We formulate with you in mind
We're proud of the products we've created and it's important to us that you love them too. All of our products are free from GMO free from added Lactose and Gluten and contain no nasties. All of our claims are supported by scientific evidence which means there is serious scientific research behind them (and we make that research available to you)!
We test test and then test some more
We're obsessed with quality and safety. This means each of our products undergo multiple rounds of testing throughout our whole supply chain to ensure their stability and safety. Our ingredients and finished products are all tested in Australia.
www.vitable.com.au
Always read the label. Follow the directions for use. If symptoms persist talk to your health professional. Vitamins and/or mineral supplements should not replace a balanced diet.
Health made true and easy
---
❊ Web Links ❊
➼
Vitable: Personalised Vitamins & Supplements
➼
www.vitable.com.au
❊ Be Social ❊
→
Disclaimer
: Check before making plans
...
Update Page