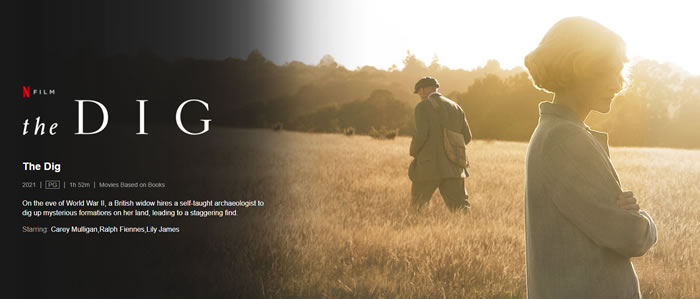 The Dig (2021)
Netflix - PG-13 | 1h 52min | Biography Drama History
An archaeologist embarks on the historically important excavation of Sutton Hoo in 1938.
On the eve of World War II a British widow hires a self-taught archaeologist to dig up mysterious formations on her land leading to a staggering find.
Stars: Carey Mulligan Ralph Fiennes Lily James
Director: Simon Stone
Writers: Moira Buffini (screenplay) John Preston (novel)
Watch now on Netflix
Official Trailer: The Dig
REVIEW: The Dig

During his long career on screen Ralph Fiennes has been sliding up and down the British class system adjusting his accent and his aspect on life as effortlessly as he changes costume.
In The Dig he lands among the enterprising working class as a self-taught archaeologist and astronomer whose well-grounded confidence in his own expertise turns out to be much more valuable than a snooty family pedigree. He's cast as Basil Brown whose work led to the 1939 excavation of the remains of the seventh-century Anglo-Saxon burial ship Sutton Hoo one of the world's most dazzling archaeological finds .
Drawn from British writer John Preston's novel about the discovery the film takes a few innovative liberties with fact but one thing sounds a strong ring of truth – Fiennes' portrayal of the indomitable Brown who starts digging for Sutton Hoo after being hired by Edith Pretty a Suffolk landowner. Edith has a remarkably prescient hunch that the mysterious mounds on her property may conceal something of historic importance.
She's played by Carey Mulligan who has a similar gift for transforming herself. You can currently catch her in an entirely different milieu – negotiating the perils of the modern dating game in A Promising Young Woman. But one constant in all her performances is her delivery – clipped yet musical with a streak of mischief and a lot of authority.
Edith is a widow with a young son and a large manor house where she dresses to eat a solitary dinner every night. It's a lonely routine and at one point it looks as if the film directed by Australia's Simon Stone (The Daughter) is about to break it up with the hint of a burgeoning romance between her and the taciturn Mr Brown. But the script backs off just in time to reveal the existence of Mrs Brown (Monica Dolan) who is kind sensible and forbearing enough to put up with the fact that her husband's passion for archaeology will always leave them in need of money.
Preston was inspired to write his novel by the knowledge that his aunt Peggy was a trainee assisting Charles Phillips (Ken Stott) the Cambridge University archaeologist who took over the excavation from Brown once its significance became known. Lily James takes on the role of Peggy and is assigned a fictional love affair with Edith's cousin Rory (Johnny Flynn). The action could probably do without it. Brown's struggles with the condescending Phillips are enough to keep the plot humming along and the news that Edith is suffering with a severe heart condition adds a melancholy note to her developing friendship with Brown.
Edith's own pedigree is a great advantage when she weighs in to support him in his battles with Phillips and the academic establishment struggles that echo the prejudices that Mary Anning –another selftaught British scientist – confronted a century earlier. Her story is told in the Kate Winslet movie Ammonite.
As Sutton Hoo yields up its treasures Phillips and Brown begin to realise that their time is running out. Britain is about to declare war on Germany and the site must be protected. At the same time Rory receives his call-up papers for the RAF and as her health worsens Edith dwells on her own mortality.
All of these concerns adroitly circle back to Sutton Hoo together with thoughts of the fragility of the legacy left behind by each generation. The artifacts being unearthed are re-writing the history of the Anglo-Saxons and their artistic achievements which can be read as a heartening victory over time's ruthlessness. But it offers scant comfort to a generation forced by the approaching war to dwell on life's evanescence.
None of this is spelt out overtly. The trajectory of Preston's plot allows them to emerge naturally and the performances do the rest. History with a British accent and a significant streak of repressed emotion inevitably attracts accusations of stuffiness but there is no cause for them here. It's a poignant tale gracefully told.
Reviewed by SANDRA HALL
This review is from the February 2 2021 issue of The Age Digital Edition.
To subscribe visit "https://www.theage.com.au".
---
❊ Web Links ❊
➼
The Dig
❊ Be Social ❊
→
Disclaimer
: Check before making plans
...
Update Page