My Muscle Chef: Healthy Meals Delivered Fresh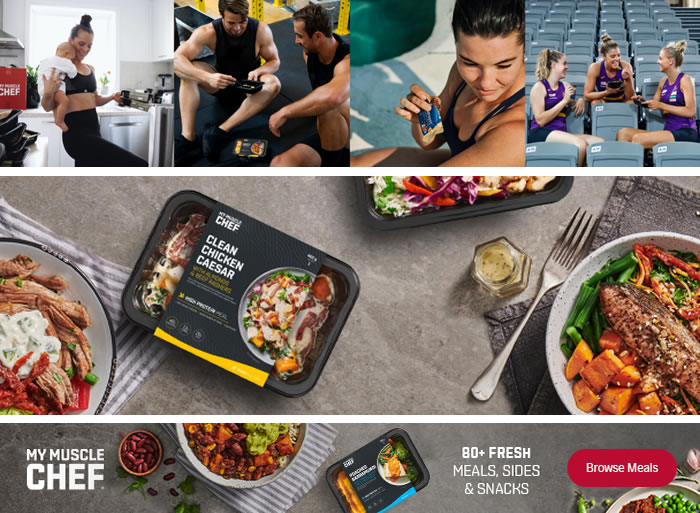 HEALTHY MEALS DELIVERED FRESH
EVERY BODY EVERY GOAL
At My Muscle Chef we believe that eating healthy shouldn't come at the expense of taste or your precious time.
We've sourced wholesome ingredients to deliver an unforgettable eating experience.
Leave the meal prep to us and get on with what's important in life!
Our healthy meals are formulated to give you the right nutrition to suit your lifestyle. Whether it's working out in the gym at home or just to get you through a busy work week we have macro friendly meals for you. Is your goal to lose weight gain muscle or maybe to enjoy convenient tasty meals? Whatever your needs are we aim to have something for every taste diet and lifestyle.
We delivery our ready to eat meals to Sydney Newcastle Melbourne Geelong Brisbane Gold Coast Canberra Adelaide Perth and more.
Our meals are not frozen but prepared fresh to order and last up to 10 days in the fridge or up to 12 weeks in the freezer.
Use WELCOME20 to get $20 off your first order
www.mymusclechef.com
WHY CHOOSE MYMC
Since 2013 My Muscle Chef has been providing freshly prepared high protein meals to all Australians. We're all about health that doesn't compromise on taste because we believe you can have the best of both worlds.

Delivering fresh clean convenient meals straight to your door

Supplying a range of protein types including chicken beef lamb seafood and plant-based protein options.

Providing a selection of meal plans & pre-selected sets for different dietary requirements
Use WELCOME20 to get $20 off your first order
www.mymusclechef.com
---
❊ Web Links ❊
➼
My Muscle Chef: Healthy Meals Delivered Fresh
➼
www.mymusclechef.com
→
Disclaimer
: Check before making plans
...
Update Page