MobileMuster | Mobile Recycling Program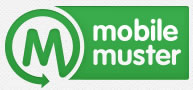 The MobileMuster program collects and recycles mobile phone handsets, batteries and accessories from a network of over 2000 mobile phone retailers, local councils, government agencies and businesses drop off points across Australia.
MobileMuster is the government accredited recycling program of the mobile phone industry in Australia. Established voluntarily by the telecommunications industry in 1998. its overall aim is to raise the awareness of mobile phone recycling and making it easy and accessible to all.
To find your nearest collection point
click here
.
The program is managed by Australian Mobile Telecommunications Association (AMTA). MobileMuster members include:
Alcatel, Apple, Google, hmd Global, HTC, Huawei, Motorola, Oppo, Optus, Samsung, Telstra, Vodafone and ZTE.
The recycling service is free to consumers, schools, businesses, local councils and government agencies.
For any Enquires Contact: 1800 249 113
❊ Web Links ❊
➼
MobileMuster | Mobile Recycling Program
➼
www.mobilemuster.com.au
❊ Be Social ❊
Update This Page