Kalamunda Farmers Market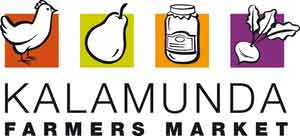 The Kalamunda Farmers Markets are held every Sunday morning from 8am to 12noon in the Kalamundas Cental Mall.
These markets are farmers and producers markets, giving buyers the chance to come along and talk to the farmers and producers about their special family recipes, taste the samples on offer, and meet others with a passion for fresh and local produce that is just bursting with flavour and nutrition.
The Kalamunda Farmers Market was nominated as a finalist in the WA Tourism Awards - Special Services Category for the last 2 years in a row.
Families come out every Sunday to experience the atmosphere of the markets, and meet their friends. Lucky shoppers can also win the huge harvest hamper raffle, and get to experience something from every stall in the market.
The Kalamunda Farmers Market enables shoppers to buy direct from the farmer, grower or producer in the Perth hills. The Market operates every Sunday morning in the Central Mall, Kalamunda from 8am.
The market has an enormous array of produce including seasonal fruit and veg, trout, beef, pork ,lamb, chicken, eggs, large range of biscuits and cakes, macadamia and pecan nuts, fresh squeezed orange juice on site, honey, native cuisine, herbal loose teas, ground coffee beans, pickles, wild flowers, jams, roses, gerberas, lilies, pickled onions, donuts, cheese, homemade fertilisers, soil solver products, herbs (Fresh picked and potted- Still growing), truffle oil, pea straw, Turkish food, Thai food, Japanese food, avocado oil, nuts, green sprouts, spices, marinades, savoury pastries, lavosh dips, potted herbs, blue berries, a great range of take away food, jellies, chutneys, milk, seedlings, bread, pet treats, pies, pasties, spring rolls, olive oil, dukkah, gluten free products, jerky and pastes.
Bring along your own shopping bags to reduce the impact plastic has on the environment. Or come and buy one of our great Kalamunda Farmers Market Bags.
For stallholder information please visit the website via the link below, or contact the Market Manager, Neta Parker on email: farmersmarket@kalamundachamber.com.
When & Where
Happens: Sunday
Times: 8am-12noon
Location
⊜ Cental Mall Kalamunda
Map
Web Links
→
Kalamunda Farmers Market
→
www.kalamundachamber.com
❊ Be Social ❊
Publisher Statement
: Details can change at any time. Readers are advised to check with the advertiser (links above) before proceeding.
➼
Advertising Disclaimer
Update This Page