Judas and the Black Messiah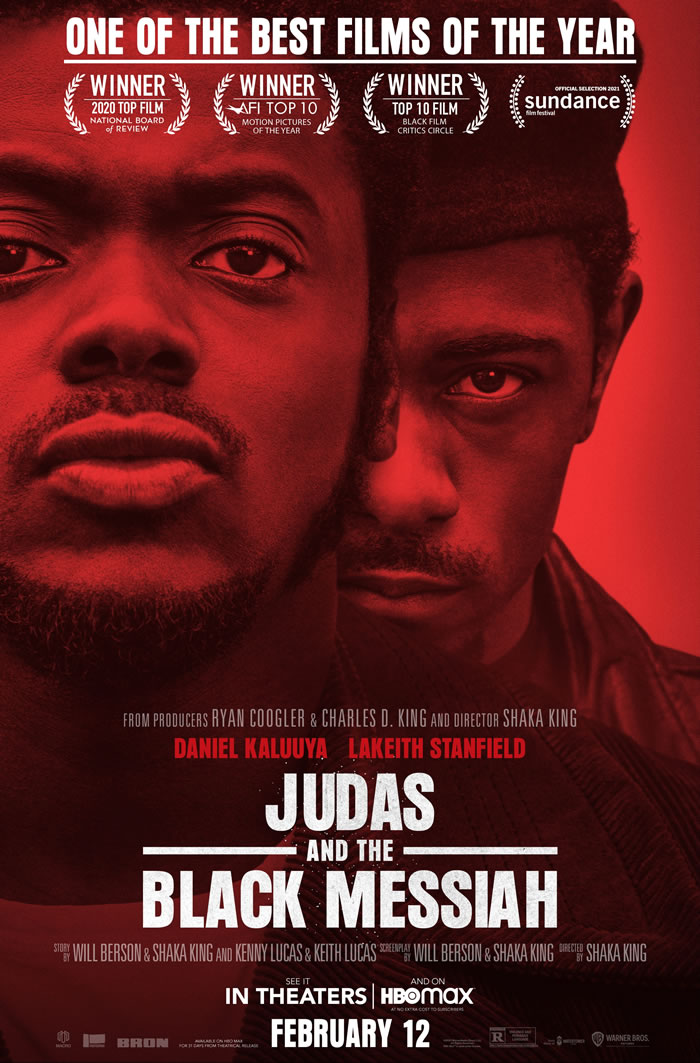 Bill O'Neal infiltrates the Black Panther Party per FBI Agent Mitchell and J. Edgar Hoover. As Party Chairman Fred Hampton ascends falling for a fellow revolutionary en route a battle wages for O'Neal's soul.
FBI informant William O'Neal (LaKeith Stanfield) infiltrates the Illinois Black Panther Party and is tasked with keeping tabs on their charismatic leader Chairman Fred Hampton (Daniel Kaluuya).
A career thief O'Neal revels in the danger of manipulating both his comrades and his handler Special Agent Roy Mitchell (Jesse Plemons). Hampton's political prowess grows just as he's falling in love with fellow revolutionary Deborah Johnson (Dominique Fishback).
Meanwhile a battle wages for O'Neal's soul. Will he align with the forces of good? Or subdue Hampton and The Panthers by any means as FBI Director J. Edgar Hoover (Martin Sheen) commands?
Director: Shaka King (Newlyweeds) Starring: Daniel Kaluuya LaKeith Stanfield Jesse Plemons Martin Sheen.
Judas and the Black Messiah (2021)
DURATION 125 min
RATING MA15+
2h 6min | Biography Drama History
www.palacecinemas.com.au
Official Trailer: Judas and the Black Messiah
Review: Judas and the Black Messiah

COMPELLING HISTORICAL BIOPIC POINTS THE FINGER AT THE FBI FOR ITS ROLE IN CUTTING DOWN A CHARISMATIC YOUNG BLACK ACTIVIST
If you were in any way fascinated by the recent courtroom drama The Trial Of the Chicago 7 chances are that brilliant movie left you wanting to know a whole lot more about one key character in particular.
The person in question is Fred Hampton the inspirational and incendiary leader of the Chicago chapter of the Black Panthers movement.
An important yet misunderstood figure in the annals of African-American history Hampton's famed charisma intellect and ability to connect with people of all races are compellingly to the fore in Judas and the Black Messiah.
As you watch the man in action - masterfully played by Daniel Kaluuya - you will keep wondering long and hard what this remarkable individual might have gone on to achieve had he not died at 21. Hampton's rise to national prominence in the US in the late 1960s came in the wake of Martin Luther King's assassination.
Little wonder then FBI head J. Edgar Hoover (Martin Sheen) just as swiftly issued a covert ruling that Hampton's voice was one which must be silenced.
Eager to impress his bosses ambitious FBI agent Roy Mitchell (Jess Plemons) recruited Bill O'Neal (LaKeith Stanfield) to infiltrate Hampton's Panthers operation and report what he sees.
While definitely a shady character with criminal inclinations there was an impressionable almost innocent side to O'Neal that meant he was easily manipulated by Mitchell.
Once the FBI handler had pushed O'Neal to take on more secret duties than that of a mere informer Hampton's horrible fate was effectively sealed.
(Without going into the details of what transpired in the lead-up to Hampton's death it is utterly chilling to think it could possibly have happened on American soil and was so quickly forgotten by the general public.)
If there is a factor that holds back Judas and the Black Messiah from achieving maximum impact it is that the writing does not quite live up to the performances here.
The Fred Hampton story remains one that eludes easy summary or clear understanding and it could be argued that a longer more generous platform like a multi-episode series might have been the better way to tell it.
Judas and the Black Messiah is now showing in general release.
This MOVIE REVIEW by LEIGH PAATSCH is from the March 11 2021 issue of The Herald Sun Digital Edition. To subscribe visit
www.heraldsun.com.au
.
---
❊ Web Links ❊
➼
Judas and the Black Messiah
❊ Be Social ❊
→
Disclaimer
: Check before making plans
...
Update Page