I Still Believe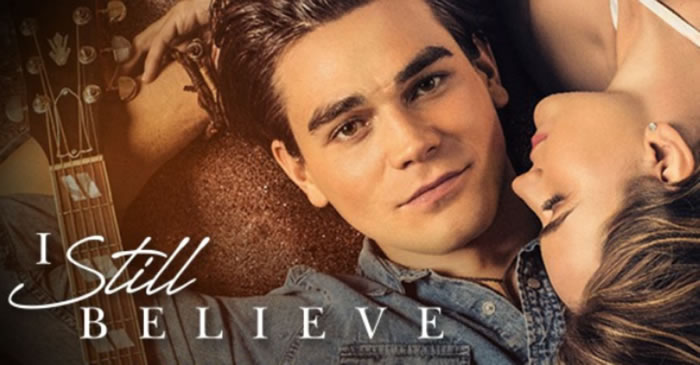 The true-life story of Christian music star Jeremy Camp and his journey of love and loss that looks to prove there is always hope.
From the makers of I CAN ONLY IMAGINE comes the true life story of Christian music mega star Jeremy Camp and his remarkable journey of love and loss that proves there is always hope in midst of tragedy and that faith tested is the only faith worth sharing.
Trailer: I Still Believe
I Still Believe (2020 Movie) Official Trailer | KJ Apa Britt Robertson
Review
Review LEIGH PAATSCH |
heraldsun.com.au

This modest tear-jerker surprised the whole movie business last weekend by opening number one at the US box-office .
It wasn't just the coronavirus effect that pumped up the prospects of I Still Believe (though many prominent titles did pull out of wide release at the last minute).
Across its lengthy running time the movie continually has one thing working in its favour: an unfailingly sincere respect for the true story it has been entrusted to tell.
Adapted from Christian music star Jeremy Camp's 2011 memoir of the same name I Still Believe delves into the short and bittersweet relationship Camp shared with his late first wife Melissa after the two met while still in college.
It is no spoiler to reveal there will be a tragic end ahead. The movie is not looking to mine this sad situation to score easy emotional points from its audience.
If anything the message here has more to do with accepting understanding and learning from an important loss.
In the case of Melissa and Jeremy her irreversible medical diagnosis meant he had to find a way to make the most of what time they had together.
While the production perhaps over-emphasises the deep back catalogue of songs penned by Camp (effectively played here by K.J. Apa from TV's Riverdale) the instant and close bond he formed with Melissa (Britt Robertson) remains to the fore with genuine grace and feeling.
The near-two-hour duration is a miscalculation on the part of the filmmakers who could easily have done away with a cheesy sub-plot about an unlikely competitor for Melissa's affections.
Even if the production was clearly made with a faithbased audience in mind those who fall outside the target demographic will definitely still find themselves moved by the couple's unavoidably illfated journey.
Robertson and Apa already have a proven screen affinity after their work together on the 2017 movie A Dog's Purpose and it would not be a chore to see them paired together again after this assignment.
Director Andrew and Jon Erwin Starring K.J. Apa Britt Robertson Gary Sinise
---
❊ When & Where ❊
Happens: Monday, Tuesday, Wednesday, Thursday, Friday, Saturday, Sunday
❊ Be Social ❊
Disclaimer
: Event details can change at any time. Check with the advertiser before making plans, buying tickets or proceeding
...
---
❊ Web Links ❊
→
I Still Believe
Update Page