Godzilla vs Kong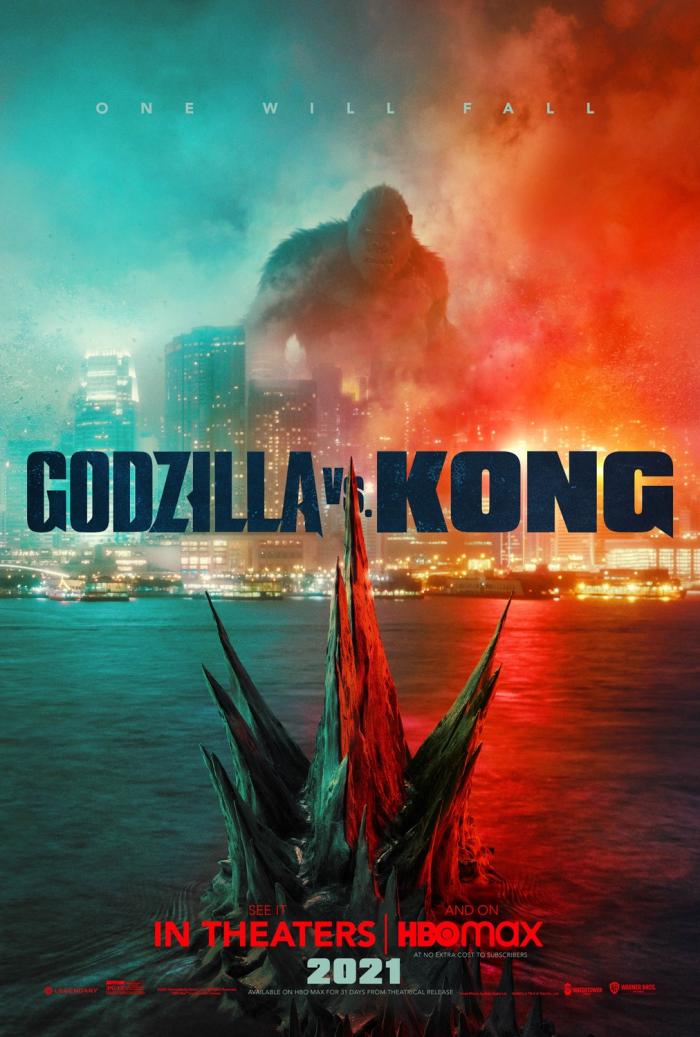 Rated: M - Science fiction themes and action violence
The epic next chapter in the cinematic Monsterverse pits two of the greatest icons in motion picture history against one another - the fearsome Godzilla and the mighty Kong - with humanity caught in the balance.
In a time when monsters walk the Earth, humanity's fight for its future sets Godzilla and Kong on a collision course that will see the two most powerful forces of nature on the planet collide in a spectacular battle for the ages. As Monarch embarks on a perilous mission into uncharted terrain and unearths clues to the Titans' origins, a human conspiracy threatens to wipe the creatures, both good and bad, from the face of the earth forever.
www.eventcinemas.com.au
Official Trailer: Godzilla vs Kong
Review: Godzilla vs Kong

This is not the first time Godzilla and King Kong have stomped forward to smack each other senseless for our entertainment pleasure.
That honour went to the 1962 Japanese creature feature King Kong Vs Godzilla. No one can really recall what started that spat - a nuclear silo stacked with radioactive bananas, maybe? - nor who came out the victor.
The only reason we are seeing these titans of terror going the wilful whack in 2021 is strictly corporate: the most recent screen incarnations of 'Zilla and Kong are both owned in the same studio interests.
Think of it like if Disney and its corporate stablemate Pixar suddenly pushed out a movie promoting a stoush between Wreck-It Ralph and Forky from Toy Story 4. (Which is a movie that would definitely sell as many tickets as this one.)
So what exactly happens in Godzilla vs. Kong? Why the big grudge match? Well, it is difficult to truly ascertain, as proper storytelling points are rarely hit.
A pre-fight press conference with a bit of name-calling and perhaps some furniture thrown around might have been a real help here.
Instead, what we get is a fairly hapless human cast pushing piles of explanatory gobbledygook at one another. What they say never makes much sense, aside from one weepy little girl who has buddied up with Kong and can now converse with him in sign language.
This much hard intel can be conveyed. Godzilla is not a happy monster, and appears to be building up to throwing one heck of a skyscraper-crushing tantrum.
Apparently, 'Zilla and Kong have known of each other for a long time, and neither have liked what they heard. So the King is the logical choice to stop Godzilla from putting a permanent hole in our planet, and the giant gorilla is hauled away from his home on Skull Island to do something about it.
Of the three-round tussle that will ultimately comprise this unsanctioned heavyweight title bout, the first is held on the open seas (where surprisingly, Kong turns out to be quite the swimmin' simian).
The second takes place somewhere south of the earth's surface (a weird realm where someone comments that "the gravity there is inversed!"), while the final round is conducted within the familiar confines of a densely populated city at night (where there is talk of a mystery third aggressor possibly joining the fray).
This excellent review by LEIGH PAATSCH is from the March 25, 2021 issue of The Herald Sun Digital Edition. To subscribe, visit https://www.heraldsun.com.au/.
Monsters Ready To Rumble

ONCE Kong starts ramming Godzilla's head into skyscrapers, it's relatively easy to accept logic, reason and character development as part of the collateral damage.
But this monster mash's credibility issues begin way before that.
Since the premise for Godzilla vs. Kong basically amounts to a behemoth brawl, there wasn't a lot a lot of room for screenwriters to manoeuvre.
So they supersized the narrative with not one, but two beauties who can see beneath their respective beast's coarse exteriors; an eye-popping , gravitydefying detour to Earth's core; and a gigantic new apex predator.
Holding this turbulent course, which spans sea, ice and nuclear fission , is a strong ensemble cast, including Rebecca Hall, Kyle Chandler and Alexander Skarsgård .
The always watchable Millie Bobby Brown reprises her King of the Monsters role as Godzilla's defender Madison Russell, with Hunt for the Wilderpeople's Julian Dennison and Joker's Brian Tyree Henry providing some comic relief.
Newcomer Kaylee Hottle steals every one of her scenes as the young gorilla whisperer Jia, with whom Kong has a special relationship.
Kong vs. Godzilla's plot, such as it is, centres around the transfer of Kong from his failing native habitat on Skull Island to the Arctic, in the hope that he will lead scientists "home" (the filmmakers pay direct homage to E.T.)
Ethologist Ilene Andrews (Hall) and geologist Nathan Lind (Skarsgård ) go to great lengths to circumnavigate Godzilla's marine domain, knowing that the alpha males in this shared cinematic universe are genetically programmed to battle for supremacy. The gargantuan reptile tracks them down anyway.
After barely surviving the first in a series of monumental battles, Kong regains consciousness on a frozen mountain top, whereupon he is persuaded to leap through a hole that takes him all the way to the centre of the Earth, which, as it turns out, is not flat but hollow.
The scientists follow him at breakneck speed in specially designed pods. (Jules Verne eat your heart out). This Journey to the Centre of the Earth-influenced interlude allows for a bit of prehistoric fun – such as the gruesome scene in which Kong rips the head off a giant, winged dinosaur and then slurps on its fluorescent green innards – before the filmmakers return to the planet's surface for the final showdown.
The appeal of this thunderous creature feature should not be overstated
– brute force only gets a filmmaker so far.
But can you remember the last time you were in a multiplex theatre when the floor shook and your viscera trembled?
A blockbuster-starved audience will be prepared to give this iconic monster clash a bit of extra latitude.
This review by Vicky Roach is from the March 28, 2021 issue of The Herald Sun Digital Edition. To subscribe, visit https://www.heraldsun.com.au/.
---
❊ When & Where ❊
Date/s: Thursday 25th March 2021 - Sunday 25th April 2021
❊ Be Social ❊
Disclaimer
: Event details can change at any time. Check with the advertiser before making plans, buying tickets or proceeding
...
---
❊ Web Links ❊
→
Godzilla vs Kong
Update Page