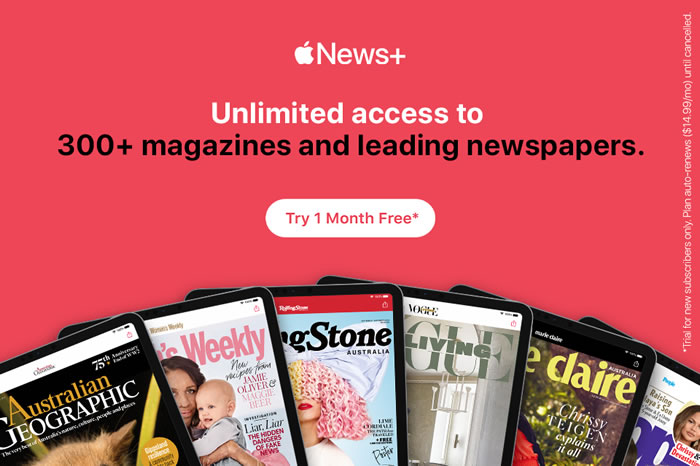 Hundreds of magazines and leading newspapers.
One subscription.
World-class journalism from the titles you love and the sources you trust.
Full magazine issues and in‑depth features online or off.
Stay up to date on important stories with top newspapers.
The week's best articles expertly narrated with Apple News+ audio stories.
Apple News editors select the most important compelling articles and surface them in Top Stories Spotlight and other collections. These must-reads include everything from the latest headlines to in-depth coverage of the biggest stories of the year. An Apple News+ subscription unlocks even more premium articles and issues from the world's best newspapers and magazines.
news.apple.com
$9.99/mo. Every article. Every issue. No paywalls.
Apple News+ delivers an incredibly diverse collection of the world's best publications.
Vivid photography and animation rich videos and immersive layouts bring articles to life in stunning new ways. Swipe through issues from cover to cover or download them to read on the go. You get every article in every title all for one price - without ever hitting a paywall.
iPhone Mac iPad
news.apple.com

Hundreds of magazines and leading newspapers

Apple News+ audio stories

Enhanced local news experience with premium sources

Reading online and off across devices

Cover-to-cover magazines

Family Sharing for up to six

Top stories chosen by editors personalized for you

Apple News Today

Local news

Private and secure reading

CarPlay
news.apple.com
---
❊ Web Links ❊
➼
Apple News+
➼
www.apple.com
❊ Also See.. ❊
➼
Apple TV+
❊ Be Social ❊
→
Disclaimer
: Check before making plans
...
Update Page