QuizzaMe Trivia Nights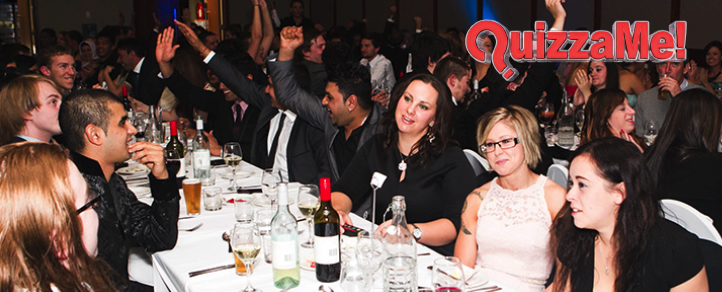 Hey quiz fans, looking for the best trivia nights in Perth? Look no further than QuizzaMe pub trivia. You can join us for a fun filled quiz night at your favourite venue for good food, good friends and good laughs! QuizzaMe delivers an action packed trivia night using no pens and no paper - just wireless buzzers exclusive to QuizzaMe. It is the trivia night Perth quiz masters can't get enough of.
Quiz Night Perth
All of the questions are multiple choice. The faster you answer them correctly, the more points you get! All questions are randomly chosen from a wide range of categories and topics. Although there is one thing for certain, there will be something for everyone!
All QuizzaMe Perth trivia nights are free to play, and there is a large range of prizes to be won. Some are for being clever, and some for participating and just getting involved.
Head to the how it works page for more information or to find out how amazing a QuizzaMe corporate or fundraising event is. To arrange your own trivia night in Perth, speak to one of our Quiz Masters today!
Monday
Port Kennedy RSL
27 Paxton Way, Port Kennedy
REGO: 6:30pm | START: 7:00pm
Quiz Master Steve
(08) 9524 5855
Tuesday
The Kardinya Tavern
17 South Street, Kardinya
REGO: 6:30pm | START: 7:00pm
Quiz Master TBA
(08) 9337 6999
Cobblers Tavern
629 Old Coast Road, Falcon
REGO: 7:00pm | START: 7:30pm
Quiz Master Steve
(08) 9534 2222
Wednesday
Leopold Hotel
326 Canning Hwy, Bicton
REGO: 6:30pm | START: 7:00pm
Quiz Master Jared
(08) 9339 1100
Kwinana Local
1 Chisham Ave, Kwinana
REGO: 7:00pm | START: 7:30pm
Quiz Master Steve
(08) 9419 7666
QuizzaMe is an interactive trivia night in Perth covering a range of interesting and entertaining topics. These include history, literature, geography, sport, popular culture, science, music and of course - general knowledge. Make sure to grab your friends and bring a team down to play. Remember all QuizzaMe Perth's trivia nights are free to play!
Our trivia venues offer a range of prizes for you to win. These include free drink vouchers, pub food, dessert or even prizes to take home with you! There are plenty of opportunities to win. Not just for being smart, but even just for giving it a go. The more you get involved, the better your chances are!
All our fantastic trivia questions are delivered through a multimedia format. They include video questions, audio questions and picture questions too. We also have unique questions and games that are played using the amazing QuizzaMe wireless buzzers. Our Quiz Masters will keep you entertained as you work your way through the quiz. Forget about pens and paper (that's very 2013). QuizzaMe uses exclusive buzzer technology to deliver a game-show like experience like nothing else!
Once you play on of our quiz nights in Perth, you will see why QuizzaMe is taking Australia by storm!
---
❊ When & Where ❊
Happens: Monday, Tuesday, Wednesday
Times: see above
→
Disclaimer
: Event details can change at any time. Check with the advertiser before making plans, buying tickets or proceeding
...
❊ Be Social ❊
---
❊ Web Links ❊
→
QuizzaMe Trivia Nights
→
quizzame.com.au
Update Page