Cooking With Maggie | Free Online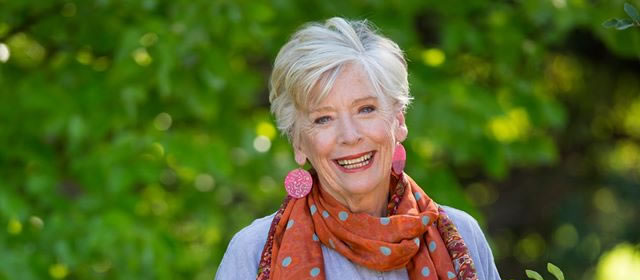 National treasure Maggie Beer is streaming daily (free) cooking classes from her home in SA's Barossa Valley.
And what she cooks next is up to you.
If there were ever a time to learn how to cook it's now. With the coronavirus prompting Australians to stay indoors people are stocking up their pantries and watching online cooking tutorials like never before. And familiar face Maggie Beer has joined the online ranks with a new video series called Cooking with Maggie.
"My happy place is in my kitchen" Beer tells Broadsheet. "It's been a tough time and I've been shown so much kindness. And if there's one thing I know I can do it's make people excited about food and give them ideas to get them cooking."
The video tutorials - which are shot on a phone - cover everything from full dishes to tips on how to pick good produce. Beer films one video per day and tailors the content based on what her social media followers want to see. "There may be people asking me how to poach an egg perfectly and easily" she says. "It might be as simple as that and putting it on a piece of toasted rye bread. It won't be complicated."
Though the videos are largely be audience-driven Beer has a few ideas of her own in the works: a recipe to make bread without yeast an oatmeal risotto and how to choose the perfect pumpkin. She aims to work with items people commonly have in their pantries as well as foods that first-time cooks tend to shy away from.
"People might send in and say 'Look I've got freekah in my pantry. I bought it 'cause I heard it was good but how do I use it?' They might say 'I've got verjuice and I don't know what to do with it'... Chickpeas and lentils - people are unsure how to make them beautiful. And it's so easy."
She also highlights ingredients that can be used as substitutes if your supplies are running low. "I'll tell people if they don't have [something] what they can use instead" she says. "If someone doesn't have vino cotto but has balsamic [vinegar] in the cupboard I'll tell them that they can use that. And I'll explain why."
Beer counts herself lucky to live where she does in the Barossa. Although the region has recently seen a cluster of coronavirus cases forcing cellar doors and restaurants to close (including Beer's own Farm Shop and restaurant) she's grateful to be self-sufficient with a vegetable garden and her own lamb and poultry. While speaking to Broadsheet she has freshly-picked tomatoes ripening in the sun on her back veranda.
Beer is committed to the video series for however long Covid-19 keeps people inside. "Whether it's three months or six months I will do it" she says. "It's the perfect opportunity to get everyone cooking don't you think?"
Cooking With Maggie
Free cooking classes

Three Cheese Macaroni with Pumpkin

Apple Crumble

Polenta with Mushrooms

Walnut Pasta

Pumpkin and Brown Rice Risotto

Barley and Chicken Soup

Baked Apples

Chickpea and Roast Vegetable Bake

Scones Two Ways

Pea and Ham Soup

Slow Cooked Lamb Breast

Quince and Almond Cake

Slow Cooked Lamb Shoulder

Olives and Beetroot with Labneh

Quinces

Spaghetti Bolognaise

Fish and Crispy Potatoes

Homemade Mayonnaise

Pasta Bake with Chicken

Salad Greens with Pear and Walnuts

Lentils with Currants Bacon and Fennel

Moroccan Cous Cous with Roasted Pumpkin

Squid Ink Pasta with Tuna

Plant Based Meals and Soups

Chicken and Kale
Cooking with Maggie is now live on
Instagram
and
Facebook
.
Source: Cooking With Maggie
FOOD | by NICOLE WEDDING |
broadsheet.com.au
---
❊ When & Where ❊
Happens: Monday, Tuesday, Wednesday, Thursday, Friday, Saturday, Sunday
Times: Anytime
❊ Be Social ❊
Disclaimer
: Event details can change at any time. Check with the advertiser before making plans, buying tickets or proceeding
...
---
❊ Web Links ❊
→
Cooking With Maggie | Free Online
→
www.instagram.com
→
www.facebook.com
Update Page