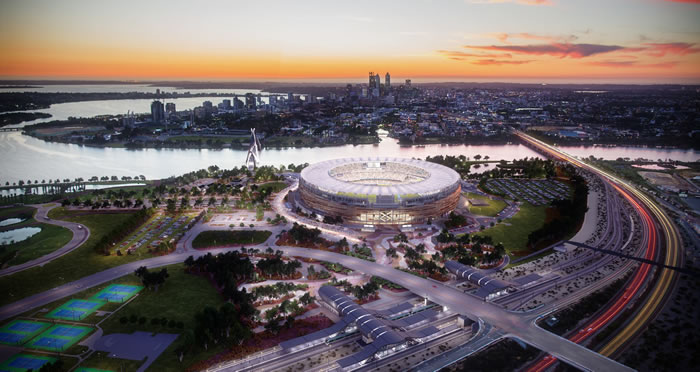 Optus Stadium and the surrounding Park is located east of the Perth Central Business District, on the Burswood Peninsula.
With views of the picturesque Swan River and Perth city in the west and the foothills in the east, this 60,000 seat, world-class, multi-purpose Stadium will host a variety of sports and entertainment events including Australian Football League, International and Big Bash League cricket, soccer, rugby league and union plus concerts.
With a 'fans first' approach to planning and design, the Stadium offers an unrivalled spectator experience including exceptional event atmosphere and cutting edge stadium technology.
The future of WA cricket is here. A WACA Membership is your connection to all forms of cricket with exclusive access to the dedicated Members areas at the
WACA Ground
and
Perth Stadium
in the 2018/19 season.
You'll get to watch all Test, One-Day International, T20 International, Big Bash and Domestic cricket content. To secure your place in cricket's future, join the WACA Waitlist today.
Stadium Review
Daniel Cherny TheAge January 29 2018
This was
WACA
bounce. Perth bounce.
Replacing an international venue with folklore as rich as the WACA left a 60,000-seat concrete jungle vulnerable to being a bit of a letdown. But early impressions suggest this won't be the case, with the fresh stadium comparing favourably to the dated
WACA
and
Subiaco Oval
.
The pitch had an odd look to it. It was grassy, but rather than a green tinge it had green lines,running down the pitch like veins.
It was a touch inconsistent, with the odd one jolting up like that stunner from Hazlewood. But extra bounce in Western Australia should be encouraged, and this was encouraging.
The new ground has a uniformity to it. There are no stands per se - the top deck of seats is one continuous oval - and there is little if anything to differentiate one end from the other. In this respect it is similar to Etihad Stadium.
There aren't light towers at Optus Stadium, with light instead coming from 15,000 LED lights atop the roof. They flashed impressively to mark boundaries and wickets, something like a strobe light at a disco, and that experience will be amplified come the AFL season, when games are regularly held there at night.
Inevitably there were going to be some slight teething problems. The odd lift wasn't working, while there was a somewhat frustrating lack of power points in the press box.
There were fears getting to the venue was going to be an issue, with the Matagarup Bridge, which connects East Perth to the venue, not yet ready. Parking is also limited , while - as this reporter found out the hard way - Ubers aren't allowed to drop off or pick up people at events at the stadium.
But the taxi drop-off area was very orderly on Sunday, while train and bus transport is extremely close to the stadium and seemed to work well first-up .
Getting to/from
By train
By bus
By car
There is no private vehicle access to Optus Stadium or the Stadium Park.
Patrons are recommended to drive to their nearest train station or bus stop.
Transperth fares are included in all Optus Stadium event tickets.
Over 11,500 off-street parking bays are available through the City of Perth, details are
available here
.
CBD shuttle buses operate from Elizabeth Quay Bus Station via Adelaide Tce and St Georges Tce. Route 661 will start running three hours prior to the start of each event.
See more details here
.
Use the Transperth
JourneyPlanner
to accurately plan your trip prior to each event.
Walk or Cycle
By taxi, limousine, coach
Jetty
What's On
Roger Mackay Drive Burswood Western Australia 6100 | Map
Telephone: 08 9428 1961



❊ Web Links ❊

➼ Optus Stadium Perth

➼ www.perthstadium.com.au



❊ Also See.. ❊

➼ WACA | Western Australian Cricket Ground

➼ Domain Stadium | Subi Oval



❊ Be Social ❊
Update This Page