What's Showing | Latest Films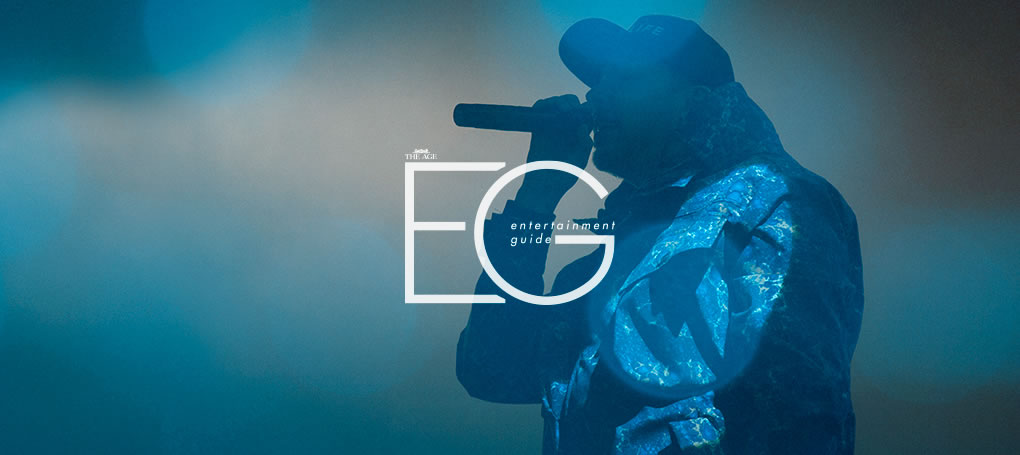 The latest films showing in cinema's reviewed weekly from EG in TheAge .
EG is the entertainment guide to plan your weekend and beyond.
Latest Films Showing This Week
NEW BROTHERS' NEST
J I
(97 minutes) MA15+
This low-budget Australian thriller reunites the Jacobson brothers of Kenny fame, but there's none of that film's genial view of the world. This is a comedy of violence, somewhere between Blood Simple and Fargo, but it's more Leyland brothers than Coen brothers. The brothers of the title are men of large girth and modest achievement, set upon a murder. Jeff (Clayton Jacobson) is the elder brother, the planner. Terry (Shane Jacobson) is not the killer type. Neither is Jeff: he just thinks he is. Clayton directs too, and there are only three supporting roles (cast superbly, with Kim Gyngell, Lynette Curran and Sarah Snook). It's not a thigh slapper, but it is reasonably satisfying as a film about the weird passions of family. PB
NEW FOXTROT
I
(108 minutes) MA
Director Samuel Maoz served in the Israeli Defence Force in Lebanon in 1982 and it was clearly a shattering experience. His first feature was set entirely inside a tank. His second dramatises what it's like for the family of an Israeli soldier who hear he has been killed. It might have been possible for someone who had not been to war to make this movie, but I doubt it. This is art made from pain, an extraordinary film that's thoughtful and hard to forget. PB
HEREDITARY
J I
(128 minutes) MA
Centred on a troubled family in an old, dark house, this creepy film draws from the same well of occult mumbo-jumbo as The Conjuring and Insidious, but invests it with a pained, personal intensity. Gruesome things happen, but the film is a slow burn, using the conventions of horror as a route to evoking a mood that's defined in large part by the house itself. JW
NEW IDEAL HOME
J I
(90 minutes) M
The new comedy from Andrew Fleming, one of Hollywood's more intelligent entertainers, stars Steve Coogan as Erasmus, a British TV chef living in Santa Fe with his partner Paul (Paul Rudd). Their comfortable existence is disrupted when Erasmus' young grandson (Jack Gore) shows up. It's a classic movie dilemma but there's a topical edge to the premise, and Fleming's ace is the appeal of his stars: Coogan and Rudd are two of the best comic actors around, and both are at their best when they have someone to bounce off. Flaws and all, this is a film with a feeling for human complexities, a degree of visual intelligence and its heart in the right place. JW
INCREDIBLES 2
I
(118 minutes) PG
The superhero family are again up against the Underminer, whose brief display of destructive urges ended the first Incredibles film in 2004. But there's a more wily opponent waiting in the wings too. The charm of Brad Bird's films lies in the way they combine farce with highly tuned stunts and a delicate way with characterisation once seen only in hand-drawn animation. SH
NEW JURASSIC WORLD: FALLEN KINGDOM
J I
(128 minutes) M It's 25 years since Steven Spielberg set the dinosaurs loose and here Spanish director J.A Bayona takes us back to Isla Nublar, where the volcano has erupted and will soon kill them unless someone mounts a rescue mission. Enter the Dinosaur Protection Group, headed by former park manager Claire Dearing (Bryce Dallas Howard) and bolstered by dino-wrangler Owen Grady (Chris Pratt). Their combative romance quickly starts up again but they're soon at risk of being shredded by dinosaurs, consumed by lava, drowned in the Pacific or shot by mercenaries. The main part of the action, though, is set in a mansion in the English countryside, with its gables, turrets and gloomy corners springing many surprises. The Spielberg touch is evident in the inspired silliness that typifies Hollywood at its giddy best. SH
THE LEISURE SEEKER
J I
(108 minutes) M
The main attraction here lies in its two leads. Helen Mirren plays Ella Spencer, who decides she and husband John (Donald Sutherland) should have one last holiday in their vintage campervan. She doesn't tell their kids, who would do everything possible to stop them because John has dementia and Ella has cancer. It's a predictable scenario but these two invest it with humanity and courage. SH
OCEAN'S 8
J I
(110 minutes) M
Debbie Ocean (Sandra Bullock) has spent five years (in jail) plotting a robbery to rival her brother Danny's work, and as soon as she's out she recruits an all-female crew to pull off the jewel heist at New York's Met gala. It's a durable formula, and adaptable. The whole film may be a con trick, but it's a good one. SH
SOLO: A STAR WARS STORY
I
(135 minutes) M
Solo gives us the stand-alone back-story on Harrison Ford's swashbuckling smuggler and his first mate Chewbacca. Alden Ehrenreich steps in and does a fine young Han. He has the same chiselled jaw, the lopsided grin, the bravado, the greed and the charm that made Solo the most attractive character George Lucas created. PB
TAG
III
(100 minutes) M
Tag is based on a real-life story about a bunch of guys who have been playing the same game of tag ever since their schooldays. It's an appealing premise, but the film contains more tame, adlibbed banter than inventively staged chase sequences. JW
UPGRADE
J I
(95 minutes) MA15+
This clever, low-budget Aussie movie by horrormeister Leigh Whannell, who co-created the Saw and Insidious series, is a sci-fi action horror hybrid. Its best attributes are excellent cyberfighting sequences, in which remobilised quadriplegic Grey Trace (Logan Marshall-Green ) moves like a robot Jackie Chan, and its inventive use of poverty. Whannell's script is fairly tonguein-cheek but there's not enough humanity here to lift the material to the next level, where we are not just engaged by the ideas, but moved by the characters. PB
Source:
EG: TheAge
PAUL BYRNES (PB) SANDRA HALL (SH) & JAKE WILSON (JW)
This article is from the June 22 issue of The Age Digital Edition.
To subscribe visit
digitaleditions.com.au
EG
For more than 25 years EG in Friday's The Age has been synonymous with entertainment in Melbourne.
Aimed at a broad audience; from fans of local and international music to movie lovers looking for the biggest Hollywood blockbuster or locally made independent film.
❊ When ❊
Days
: Monday, Tuesday, Wednesday, Thursday, Friday, Saturday, Sunday
2018-06-25 , 2018-06-26 , 2018-06-27 , 2018-06-28 , 2018-06-29 , 2018-06-30 , 2018-07-01
❊ Web Links ❊
➼
What's Showing | Latest Films
❊ Be Social ❊
Publisher Statement
: Details can change at any time. Readers are advised to check with the advertiser (links above) before proceeding.
➼
Advertising Disclaimer
Update This Page